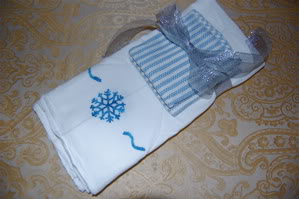 Looking for another great frugal gift idea?  Try these cute kitchen towels!  You and your kids will love making these, and they turn out looking great.  
To make these, you will need:
Plain white flour sack towels (these can be purchased at Target for about $1 each)
Fabric paint
Holiday stamps (snow flakes, holly, ornament prints all work well)
Paint brushes
Pre-wash and iron the towel to work out any creases.  Lay the towel on a clean, flat surface.  Using a paint brush, paint the stamps you wish to use and begin stamping the design onto the towel.  Use a small paint brush to touch up any spots the stamp did not quite get.  You can free hand other designs onto the towel, if desired.  Let dry for about 2 hours.  Wrap with pretty ribbon and you can include some dish washcloths for a cute (and frugal) dish towel set!