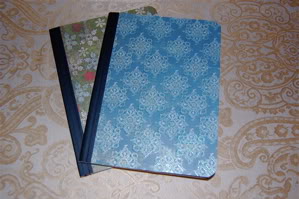 Emily and I enjoyed making these winter journals.  They are so simple to make, and they came out looking great!  To make the journals you will need:
Pretty paper (I used snowflake print, but any pattern will work.)
Plain marble notebook
Exact-o knife —

DO NOT LET CHILDREN USE THE EXACT-O KNIFE!!

Book binding tape
Glue stick
Have your child spread glue stick all over the entire cover of the marble notebook, and glue a sheet of pretty paper to the cover.  Repeat with the back cover.  
The rest is up to the grown ups —  Trim excess paper with the exact-o knife.  Use book binding tape over the binding of the notebook.  Trim any excess tape with the exact-o knife, and you are done!