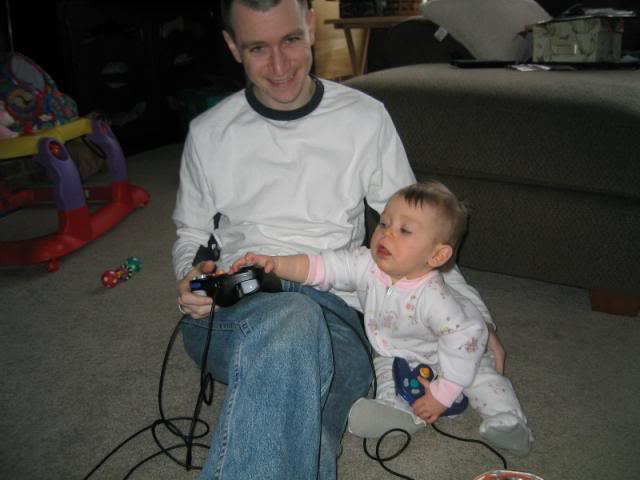 Emily (at 11 months) was already enjoying video game
s with Daddy!
Recently, we had a family video game night, and it was tons of fun.  In our household, we have a weakness for video games, and buying new games can quickly become expensive.  Mark and Emily get lots of mileage out of the ones we have, but we are always looking for ways to get good deals on video games the entire family can enjoy. 
Here are some easy ways to save money on video games:
Don't Rush —  The latest titles have the highest prices.  If you can wait just a short while, the price may come down significantly.  This is particularly true for computer games.  An added advantage is that you will have access to more reviews of the game to see if it is really worth the purchase.
Borrow From a Friend —  See if your friend won't mind parting with a game for a night or two.  Be sure to return the game in the same condition.
Swap —  You may be able to swap games with a friend, or set up a free account at GameSwap.com.  You list your old games, mail them when they are requested, and earn credits for new games.
Buy Used —  GameFly.com has used games starting at just $7.99 and includes free shipping until January 5th.  Games come with a new case and new manual. They are also 100% guaranteed.
Rent —  If your family likes to try new games, you might want to give renting a shot.  At GameFly, plans start at $15.95 per month, and includes free shipping, access to over 6,000 games, and no late fees or other hidden charges.  You may cancel at any time.  Click here for more information.
Does your family have a favorite video game?  Leave a comment and tell us about it!