Disclosure: This post is sponsored by Huntington Learning Center. All opinions are my own.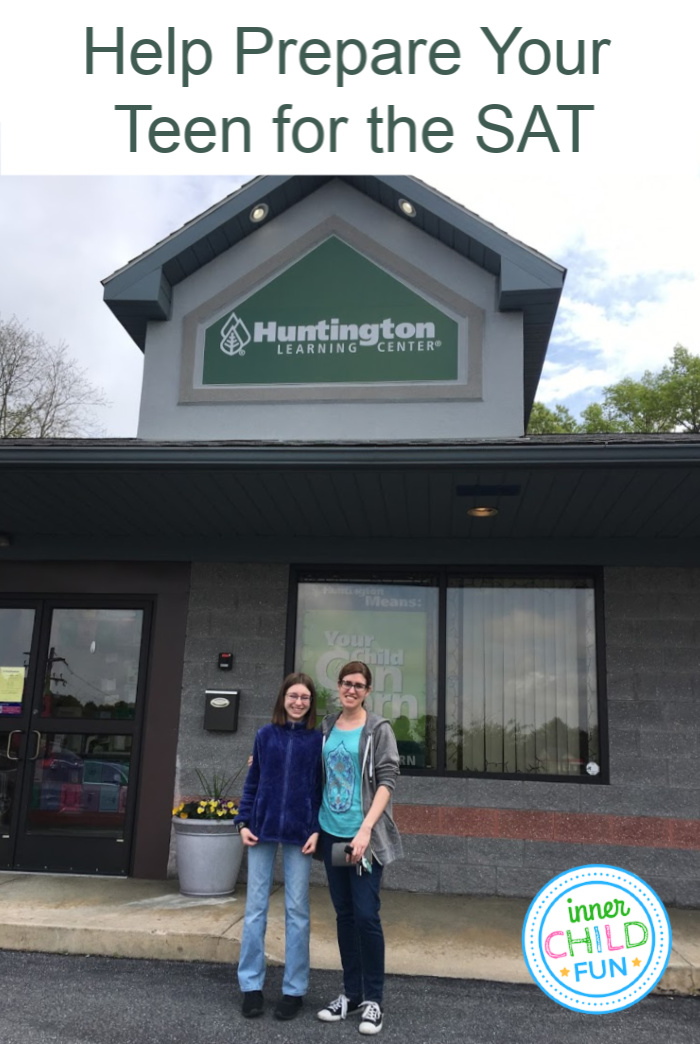 1. Add a Bit of Prep to Your Morning Routine
Once or twice a week set out a pencil and a short worksheet with 2 or 3 problems for your teen to do while he or she eats breakfast before school.
2. Word of the Day
Designate a family word of the day and learn some new words together. Encourage one another to use the word of the day in conversation. Even 2 or 3 new words per week can be a big boost to your teen's vocabulary.
3. Read Non-Fiction Articles Together
Most schools focus heavily on works of fiction, but the SAT involves analyzing several sections of non-fiction texts. Adding a few sources of non-fiction magazine or newspaper articles to your reading can help prepare your teen for the SAT.
4. Encourage Your Teen Find a Study Buddy
Studying with a friend is a great way to share resources, SAT study tips, and test-taking strategies. Study buddies can take turns testing each other, and help to hold each other accountable.
5. Use Vocabulary Flashcards
Paper flashcards work well, but remembering to bring them along when you are on-the-go can be a challenge. Another option is to search for SAT vocabulary apps, pick one your teen would be most likely to use, and install it on your teen's phone.
6. Work on Mental Math Skills
One of the two Math sections of the SAT does not allow for the use of a calculator. Sharpening mental Math skills can help save your teen lots of time on test day and can increase accuracy too. It does not take long amounts of time. You can work on this together during commercial breaks while watching TV, for instance.
7. Review Basic Grammar
Almost half of the verbal section of the SAT is made up of grammar questions. Reviewing basic grammar can be one of the easiest and most effective ways to help prepare for the test.
8. Take a Practice Test at a Learning Center
Recently, my teenage daughter took the PSAT at our local Huntington Learning Center, and it was a terrific experience! The entire test is made to mimic the actual test conditions as much as possible. She brought her pencils, a calculator, and a water bottle with her, and started the PSAT on a Saturday at 8 am. The test taking area was clean and quiet, and the test moderator gave a 5-minute warning before time was up for each section of the test.
9. Work on Weaknesses
We returned about a week later to meet with the director of the learning center and to review my daughter's results. Huntington Learning Center provides an extremely detailed and helpful test analysis. The director presented us with the test scores in a binder along with useful checklists for preparing for college, information outlining the differences between the SAT and ACT, a college visit checklist, and other tips and resources. Knowing this information means that she can work on her weaknesses and improve her test score.
10. Enroll in a Test Prep Program
Huntington Learning Center also provided an individualized study plan based on her test results and goals. After reviewing the plan, we chose to enroll our daughter in the exam prep program at Huntington Learning Center because of the large number of positive testimonials from parents and students, as well as their proven records of success. We found the tutors were able to work with our busy schedule, and our daughter will receive one-on-one instruction to help strengthen academics and review test-taking strategies.
About Huntington Learning Center:
For more than 40 years, Huntington Learning Center has offered dozens of tutoring programs for students grades K-12—including reading, writing, math, study skills, spelling, phonics, ADHD, Common Core, and test prep for the ACT and SAT to name a few. Their mission is to give every student the best education possible and realize "I can" when it comes to school success.
Connect with Huntington Learning Center: