This post is sponsored by our friends at Netflix, and I am a proud member of the Netflix #StreamTeam. This post contains affiliate links. All opinions are my own.
Do your kids enjoy designing and building their own creations? If so, you may be raising a future architect. Here are some of our favorite ways to foster a love of architecture and design!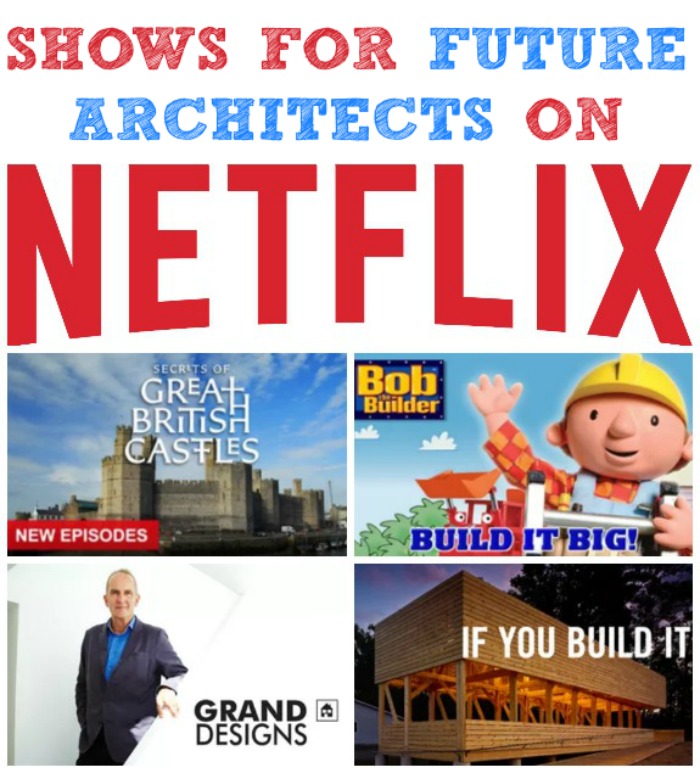 Watch it Now on Netflix Streaming:
If You Build It (Not Rated – Recommended for ages 13 and up)
In this inspiring documentary, a designer and an architect team up to create a new high school design class.
Dan Jones hosts this television series that explores some of Britain's most iconic structures. Fascinating!
In this animated series for young kids, join Bob and his team as they work hard to get the job done.
Follow along as homeowners design and build their new homes. Future architects will love the transformations and the detailed walk throughs at the end of each episode!
Architecture Story Books for Kids:
Iggy Peck, Architect — one of my daughter's all-time favorite books about problem solving and persistence.
If I Built a House — great story filled with imagination and beautiful illustrations.
Young Frank, Architect — kids will love to explore this biography of Frank Lloyd Wright.
Non-Fiction to Explore
21 Elephants and Still Standing (ages 4-7)  — based on the true story of the Brooklyn Bridge.
The Story of Buildings (ages 9-12) — explore architectural history through 16 featured buildings from around the world.
The Future Architect's Handbook (ages 9-12) — explains how architects really work to plan and design a house.
Architecture Toys
Lego (various ages) — Any Lego set is wonderful, but the Lego Architecture Kits look particularly interesting.
Magformers Magnetic Building Construction Set – 62 Piece Designer Set – (ages 6 and up)
Magnetic Tiles – (ages 3 and up)
K'nex – (various ages)
Young Architect City Planner (ages 8-15 years)
T.S. Shure ArchiQuest Modern & Post-Modern Architecture Wooden Building Blocks – ages 5 and up
Architecture Games
Test your design and survival skills in this simple block-based building world.
Build your own virtual city.
Rollar Coaster Ride Builder (Science of Disney Imagineering)
Design your own roller coaster with checkpoint challenges, special effects, and special tools.
Kids can solve problems using graph paper to design apartments and more.