When I was in college, I worked several part time jobs to help pay for my room, board, books, and other expenses. A few years in, I was earning enough money to treat myself to join a music CD mailing club. (Yes, those actually existed back then.) I remember looking forward to choosing and receiving my CD in the mail each month. It didn't take long for my CD collection to grow and while I enjoyed listening to them, it wasn't a particularly fulfilling purchase. I wanted my hard earned money to make a difference in the world, and eventually I realized that buying CDs was not the answer. I ended up cancelling my music CD club membership and during the same month, used almost the exact same amount of money to sponsor a child instead. The decision was easy and it has made such a difference in my life and the lives of others!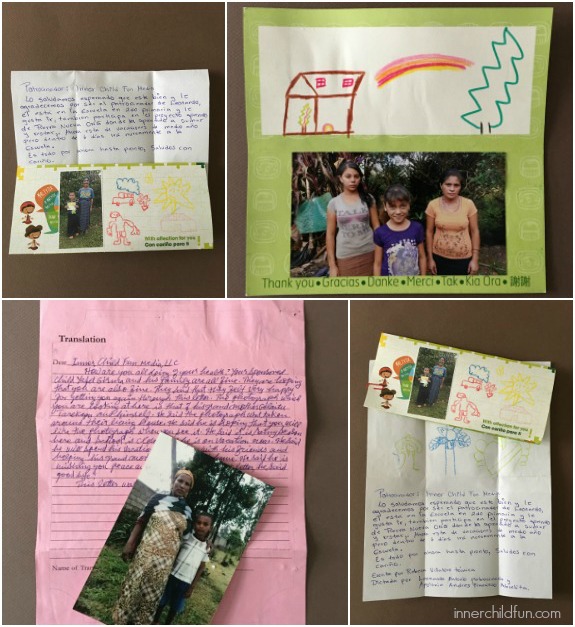 Since those college days, the experience of sponsoring a child has inspired me to find other ways to make a difference in the world through fundraising and volunteering both locally and internationally. I continue to sponsor children to this day. When I started blogging, I set up a portion of my blog's revenue to sponsor a child. Now, Inner Child Fun is proud to sponsor 3 children — a girl in Honduras, a boy in Guatemala, and a boy in Ethiopia. I have a goal for my business of sponsoring at least one more child through Children International by the end of this year. I love writing to the children my business sponsors, and knowing that I am playing an active role in the fight against poverty. What a rewarding and great experience it has been! Children International even uses an online tool that allows you to write letters directly to your sponsored child to form a real connection.
I was surprised to learn that sponsoring a child through Children International is quick and easy to do! It costs just $32 a month — a cost that could easily be met by downgrading a cable package, using a few more coupons for groceries, or packing lunches instead of eating out. The money is used to build community centers (a safe place for the children to go to receive life-changing programs and services), helping kids to get the health services they need, educational programs, and preparing kids for jobs by giving them the workplace and technical skills they need to succeed.
Learn More
If you are interested in learning more about Children International and how you can make a difference in the fight against poverty?
Make a Donation to Children International
Learn more about Children International
Connect with Children International on Social Media: