These lunch ideas for picky eaters are quick and easy to pack up for school, or anytime you are on-the-go! I love that these lunch ideas are so colorful and full of flavor. These lunch ideas can be packed in just a few minutes, and they are simple enough to be used throughout the school year without burning out from lunch-making fatigue. Pack one of these lunches up the night before, and your morning schedule will be a lot less stressful as everyone gets ready to head out the door. Having a good variety in the lunch menu can encourage kids to try new foods too!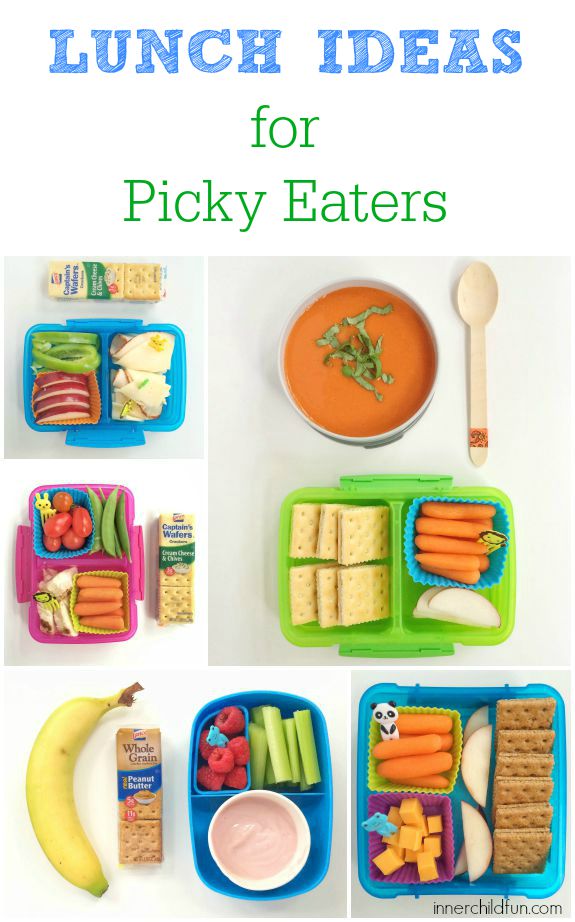 Create a Lunch Chart
One idea that worked well for us in previous years is to have a lunch chart with a list of pre-approved grains, vegetables, fruits, and dairy/proteins for the kids to choose 1-2 items from each list. This was an effective solution for my kids who like to be able to decide what they would like in their lunches, while ensuring they had a variety of foods to try. Choosing from the chart also made grocery shopping simpler. We liked being able to change up the chart from time to time depending on what was in season or on sale that week. While the chart was not super strict, it did prove to be a good guide for lunch packing, especially in the beginning of the school year.
Here are some of our favorite lunch ideas for picky eaters:
Banana, Raspberries, Celery Sticks, Yogurt, and Lance Whole Grain Peanut Butter Cracker Sandwiches
Baby Carrots, Lance Whole Grain Peanut Butter Cracker Sandwiches, Cheese Cubes, Apple Slices
Grilled Chicken, Sugar Snap Peas, Cherry Tomatoes, Baby Carrots, Lance Captain's Wafers
Apple Slices, Baby Carrots, Lance Captain's Wafers, Tomato Soup w/ Fresh Basil
Turkey and Cheese Roll Ups, Lance Captain's Wafers, Green Bell Pepper Slices, Apple Slices
For a super quick and easy packed lunch, we will include Lance Whole Grain or Captain's Wafers Cracker Sandwiches. I love that they do not contain high fructose corn syrup or artificial preservatives. The kids love how yummy they taste!
Quick Tip — Include an ice pack and an insulated lunch bag so kids can bring home any leftovers from lunch to eat as part of their after school snack.
You can learn more about Lance sandwiches on their website, Twitter, Pinterest, Instagram, and YouTube pages.
Lance makes a sandwich, they put two awesome things on the outside and something incredible in the middle. Tell us how you make a sandwich in the comments section!