The world can always use more kindness, which is why I'm thrilled to be participating in the Martin Richard Bridge Builder campaign in partnership with generationOn, Hasbro and the Martin Richard Foundation. The campaign honors Martin Richard, an 8-year-old boy who was tragically killed when the second of two bombs exploded near the finish line of the Boston Marathon on April 15, 2013. Soon after the bombing, a photo of Martin holding a handmade poster that read, "No more hurting people – Peace" touched so many hearts. Martin was known as a "bridge builder" in his school and someone who believed in fairness, kindness and inclusion.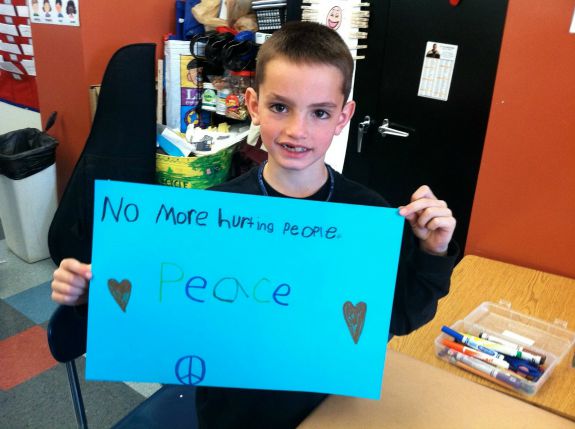 The Martin Richard Bridge Builder campaign is intended to continue spreading Martin's belief of bringing people together by challenging kids, teens and families across the country to spread peace through service projects or simple acts of kindness. Together, we can hopefully encourage more kids to take action in creating a more peaceful world!
How to Get Involved
From now until October 16, kids, teens and families can visit the generationOn campaign website to learn how to create peace in their community, join in spreading Martin's message on social media by creating peace posters or sharing acts of kindness using the campaign hashtag #NoMoreHurtingPeople
Whether it's planting a peace garden, making a peace poster, or simply inviting someone new to sit at a school lunch table, there are many easy ways kids, teens, and families can make a difference at a time when our nation needs it most. The campaign website features ten project guides to help people across the country take action in their community to spread peace and kindness.
I chose the project titled "Small Acts, Big Impact", and I am still smiling from having spent the past week doing small acts of kindness around my neighborhood!! The gratitude journal prompts included in the project guide helped to make my acts of kindness more focussed and intentional. Plus, the guide listed several ideas for inspiration, many of which are very low-cost or free to do!
Some examples include:
Say thank you to a janitor.
Say yes at the store when the cashier asks if you want to donate $1 to a cause.
Offer to return a shopping cart to the store for someone loading groceries in their car.
As part of the "Small Acts, Big Impact" project, one of the things I am most grateful for is my family's good health. When I made a donation to a children's cancer research hospital, not only did this small act of kindness go to a great cause, but it also made me feel such an increase in happiness! Win-win!!
Sometimes small acts of kindness can inspire others to do the same. A hug or a smile can go a long way! I wrote letters to loved ones, gave a book to someone who I thought would really love it, paid a soon-to-expire parking meter for someone else, and picked up trash I found at a local park. Simple, but effective in making others smile (and I smiled a lot too)!
Spread Some Kindness — You're Invited to a Twitter Party!
Where: On Twitter! Using Hashtag #NoMoreHurtingPeople
Who: You and Your Friends
Why: Discuss good deeds, spread some kindness, and promote world peace! Plus, there will be PRIZES!! Yay!!!
Date: Monday, September 21, 2015 (World Peace Day)
Time: 2-3pm EST
Be sure to follow the hosts: @SocialGoodMoms, @Hasbro, and @generationOn
You can also follow @InnerChildFun on Twitter — I would love to connect with you there!
Join us @generationOn @Hasbro & @micheleborba for a #PeaceDay Twitter party. MON at 2 PM ET. #NoMoreHurtingPeople pic.twitter.com/VTa0IXBIQ8

— Social Good Moms (@socialgoodmoms) September 20, 2015