These tuna salad sailboats are one of my kids favorite snacks to make and eat! They are simple to make and only require a few ingredients that you may already have on-hand in your pantry or refrigerator. Be sure to check out the video tutorial by my 11 year old as she explains how to make these tuna salad sailboats with step-by-step instructions. This would be a fun way to encourage kids to eat or try new foods! As a kid, my mom used to make this tuna salad snack for me, so watching my kids enjoy them takes me back to my childhood.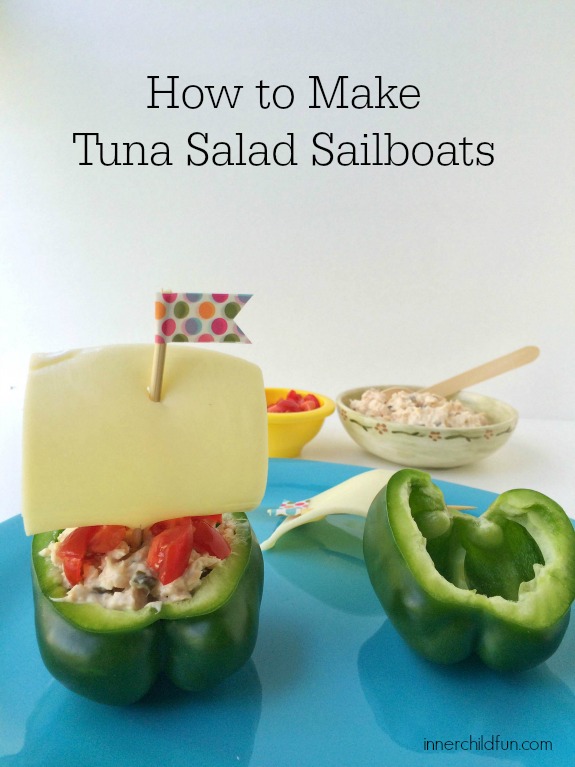 To Make Tuna Salad Snack Sailboats, you will need:
your favorite tuna salad — If you are looking for a low mercury option, try SafeCatch® tuna!
1 bell pepper cut in half
1 slice of cheese
1 toothpick
diced tomatoes
washi tape for the flag (optional)
Here is a quick video tutorial of my 11 year old as she explains how to make tuna salad sailboats:
The kids can definitely have an active role in preparing this snack. This recipe is a fun way to spend some quality time in the kitchen together!
To assemble the snack:
1. Begin by filling the bell pepper half with scoops of tuna salad until full.
2. Top with pieces of diced tomatoes to add color and flavor!
3. Insert a toothpick with a slice of cheese for the sail. Serve immediately and enjoy!
Disclosure: I was given a sample of SafeCatch® tuna for the purposes of this post. All opinions are my own.