These monkey learning activities are a great way to make learning fun for kids with games, snacks, crafts, and books! With the opening of the movie Monkey Kingdom by Disneynature this week, what better time than to learn more about these amazing creatures. These monkey learning activities are perfect for developing life skills, spelling, fine motor skills, and much more!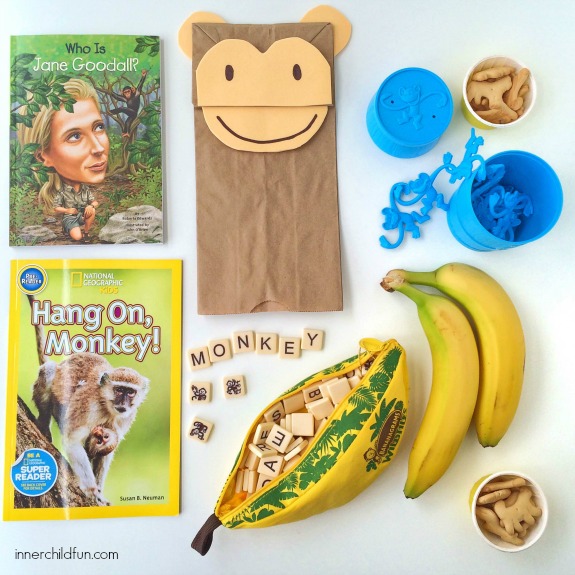 Here are some of our favorite monkey learning activities:
Life Skills
Practice peeling and cutting monkey food (aka banana slices). Serve with your favorite animal crackers for a monkey-themed snack treat!
Spelling and Vocabulary
For ages 7 and up, play Bananagrams
! In this fun anagram game, there is no board, no pencils, and no paper.  Players race to make crossword grids from the included letter tiles. Great for 1-8 players!
Learn About Monkeys
Go to the movies to watch Monkey Kingdom together! For every "Monkey Kingdom" movie ticket sold opening week (April 17-23, 2015), Disneynature will make a donation to Conservation International to help protect monkeys and other endangered species in their natural habitats. Download the Educator's Guide for Monkey Kingdom here!
Read National Geographic Readers: Hang On Monkey!
 — (ages 2-5 years) great book describing how and where many different species of monkeys live. My kids loved the adorable photos! Simple sentences make this book great for beginning readers.
Intro to Biographies
(ages 8-12) Learn about Jane Goodall by reading the book Who Is Jane Goodall?
 together. Great book that follows the story of renown scientist Jane Goodall from the time of her childhood and tells how she became interested in studying chimpanzees. …and to think it all started when she was a little more than a year old with a little chimpanzee named Jubilee! (Chimpanzees are not monkeys, however like monkeys they are also primates.) You could easily use this book as an opportunity to discuss the differences between apes and monkeys.
Fine Motor Skills
Play Barrel of Monkeys
together! This fun monkey themed game challenges players to pick up monkey to form a chain. Pick up each monkey using the last monkey's arm. Players that drop their monkeys, lose their turn. Great game for developing important fine motor skills for kids ages 3 and up!
Craft up a monkey puppet from a paper bag! Use tan construction paper to cut out a face and ears for the monkey. Attach with glue. Write up and perform a short play with your homemade monkey puppets!
More Fun Nature Activities to Explore:
Disclosure — This post contains affiliate links. Thank you for supporting us!