A classic Christmas cookie originated from Germany, Spritz Cookies are simple, buttery, and absolutely delicious. My kids and I enjoy them very much and see no reason why we can't bake them year round! Shared below is a recipe for our favorite Valentine Spritz Cookies. They are the perfect sweet treat for lunch boxes, school parties, or afternoon snacks.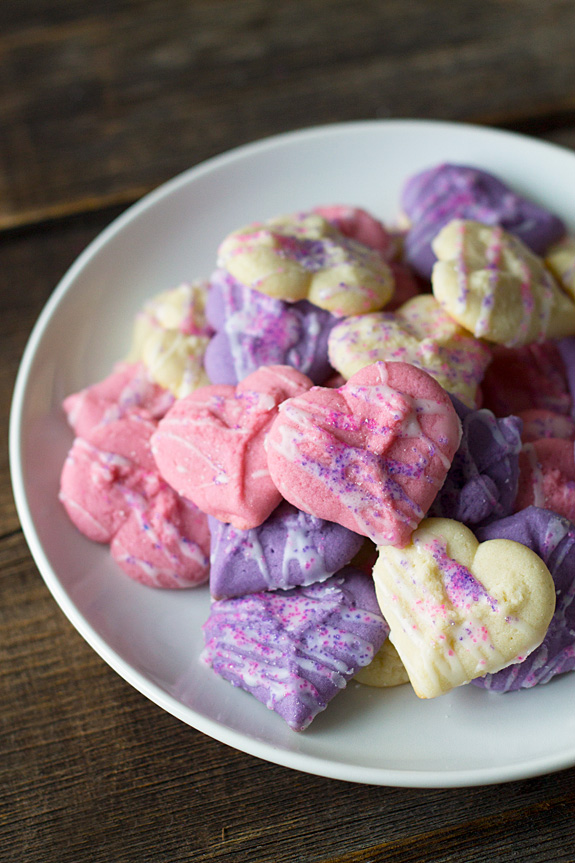 Disclosure: This post contains affiliate links. Opinions are my own.
To make Spritz Cookies, one needs a cookie press (I have this one and love it). The cookie press extrudes the cookie dough through a stainless steel disc to create shaped cookies. To make a heart shaped cookie, use the disc that looks like a letter Y.
Ready to make your own?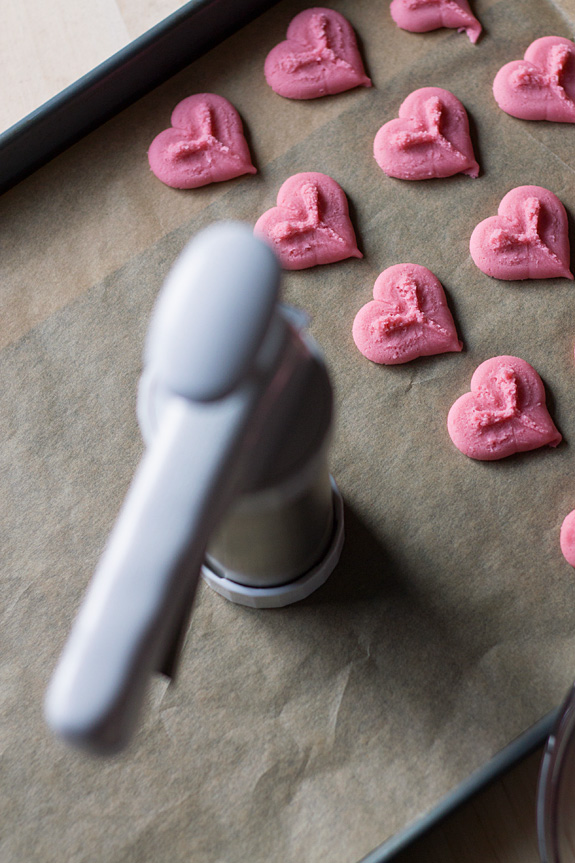 Valentine Spritz Cookies
Author:
Melissa, Inner Child Food
Spritz Cookies aren't just for Christmas! Try using the Y shaped disc that came with your cookie press to make Valentine Spritz Cookies.
Instructions
Preheat the oven to 375.
Cream the butter and powdered sugar.
Beat in the egg, vanilla, and almond extract.
Stir in the flour. Mix until well combined.
Divide the dough into 3 parts and place into separate bowls.
Drop several drops of pink food coloring into 1 bowl. Stir well.
Repeat with purple food coloring.
Fit the cookie press with the Y disc. Fill the cookie press with dough and extrude a cookie onto an ungreased cookie sheet. Repeat until you have a full cookie sheet!
Bake the cookies for 8 minutes. (You'll want to avoid over baking Spritz Cookies or you risk losing the beautiful color.)
Cool, decorate, and enjoy!
It is important to remember that Spritz cookie dough does not stick to greased pans. After baking and removing the cookies, wipe the pan well before attempting to extrude more dough onto it. I prefer to use fresh parchment paper for every batch and have developed a system for extruding the dough with my right hand while holding down the parchment paper with my left. My kids love to help by using the cookie press! For solid-colored cookies, clean the cookie press and disc before changing to a different colored dough. If desired, drizzle royal icing over each cookie and decorate with colored sugar.
Do you bake cookies for Valentine's Day?