For the holidays this year, we thought it would be fun to start a new family tradition of visiting our local Build-A-Bear Workshop! The kids enjoyed building a toy to donate to Toys For Tots and another to keep for themselves.  For the past few years, Build-A-Bear Workshop has partnered with the Toys For Tots Foundation to match toy donations with a Build A Bear furry friend! (up to 20,000) A BIG thank you to our friends at Build A Bear Workshop for providing us with gift cards and such a fun holiday experience!!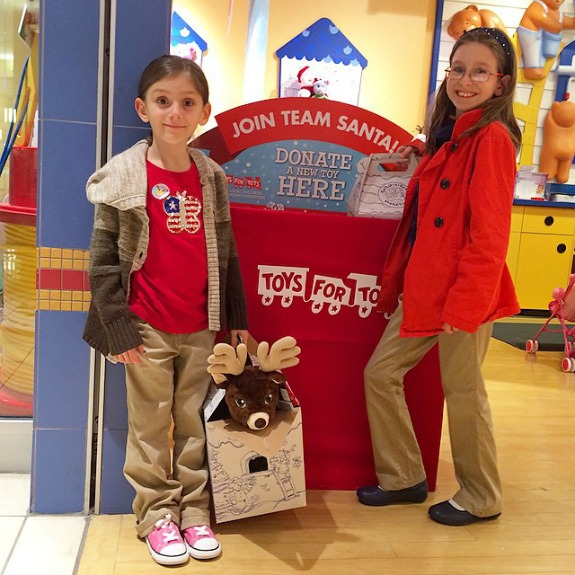 When we visited our local Build-A-Bear Workshop, we were surprised to see the large selection of holiday themed toys. You can find Santa and his reindeer — each reindeer comes with a Team Santa medallion that unlocks fun games in a free app called "Santa's Merry Mission". My kids thought it was so much fun to build a toy Santa to donate, and later a toy Cupid to keep!
The entire experience allowed the kids to bring each stuffed toy friend to life! They started by choosing which one to build, picked out a heart to place inside, did a dance while they watch the toy get stuffed, then gave it a good brushing. They even got to choose some accessories to add! Cupid got a stylish and festive sweater! Next, it was time to print out the birth certificates for their new friends. Very cool!
Finally, it was time to place the completed toy Santa in the bin to donate to Toys For Tots. Since it was donated at Build A Bear Workshop, we know Build A Bear Workshop will match the donation with another furry friend! The kids were so HAPPY to donate a toy, and knowing it will be doubled made it even more fun!!
We are already making plans to visit our local Build-A-Bear Workshop next year to make this trip an annual family tradition!