Painting en plein air with kids can be a great way to foster a love of nature while enjoying plenty of creative art time fun in the process! I love how this activity combines two of my favorite things — painting and enjoying the outdoors! This is such a simple activity, but it kept my kids happily entertained for almost two hours and they have been talking about it ever since.
Here is a guide to getting started with painting en plein air with kids (this would be a great gift guide for kids who love to paint too!):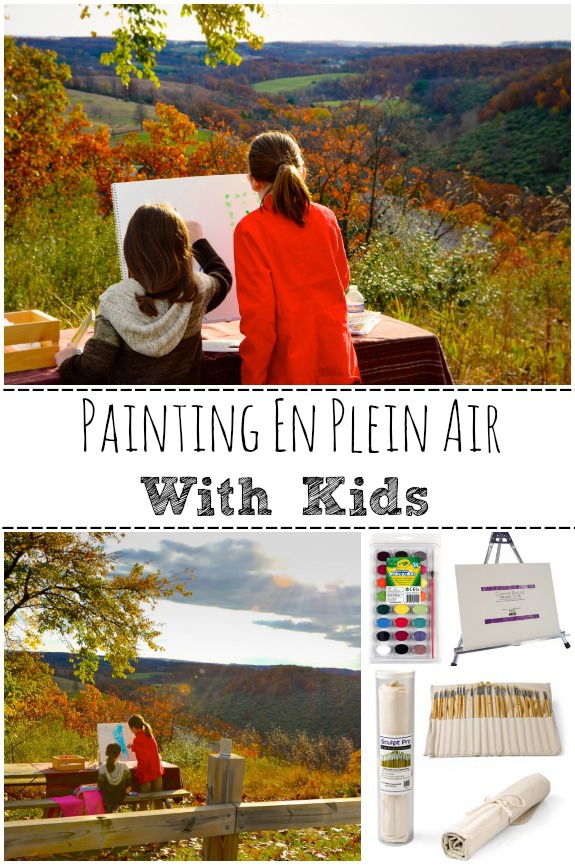 To set up an invitation to paint en plein air with your kids, you will need:
An easel of some sort. We have this folding table top easel and it works great! I love that it folds up for easy storage and doesn't take up lots of space. It's lightweight and easy to carry for on-the-go art adventures!
Artist Palette — Not mandatory by any means, but it is highly recommended. Artists palettes are great for encouraging kids to blend paints to create different hues or shades. My kids remarked several times that holding the palettes made them feel like "real artists"! Add some berets for even more artsy fun!!
A water bottle and small plastic jar for holding water to paint.
Other Items to Consider:

snacks
aprons or "art clothes"/jackets/sweaters
water bottle for drinking
roll of paper towels
sunscreen
bug spray
travel first aid kit
picnic blanket or outdoor tablecloth
I love that all of these items can be used indoors as well, but there seems to be something magical about painting outdoors that can help to keep the kids engaged in the painting process for long periods of time!
We love to go for a drive or a short hike to find a scenic spot for our outdoor painting adventures! Once we find the right location (usually a park with a picnic table), the painting set up is quick and easy. My girls love to share the same easel, but the easels are small and lightweight enough for each of them to have their own. To give you an idea, all of the items listed above (minus the watercolor pad) fit nicely into the small wooden crate shown in the photo below.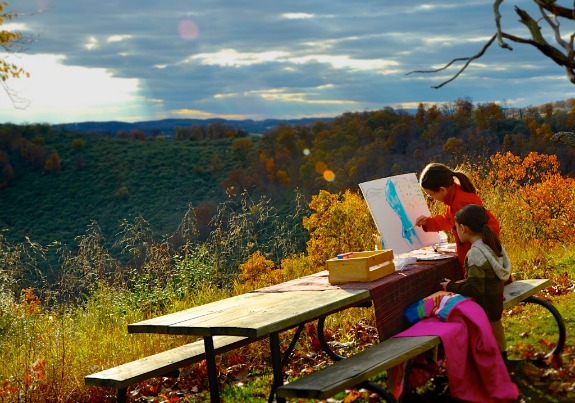 You may also want to bring along a camera to take snapshots of your outdoor painting adventures. Watching my kids paint like this was easily the highlight of my day!!
Have fun!!