With the Thanksgiving holiday right around the corner, we thought it would be fun to have a family movie night featuring the movie Free Birds and a quick Thanksgiving turkey craft to go along with it! The kids thought these cards were so much fun to make, and they cannot wait to mail them off to faraway friends and family. Since our movie is streaming on NETFLIX, it was easy to plan our family movie night without having to leave our own living room! A special thanks to NETFLIX for sponsoring today's creative family movie night theme!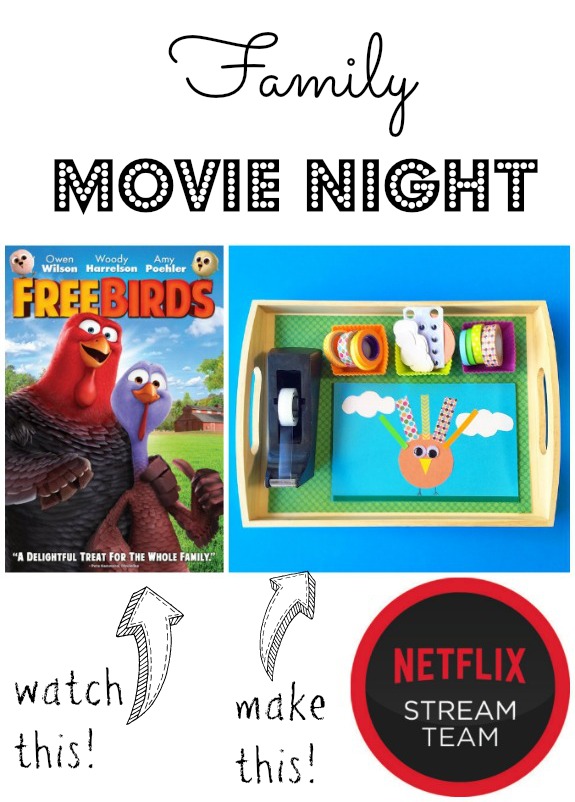 If you don't already have a NETFLIX subscription, I highly recommend it as a great alternative to cable for movies and television shows that can be streamed to your home instantly and without advertisements. Thanks to the NETFLIX app, you can even stream movies or tv shows directly to your mobile device! And there are no commitments, so you can go month-to-month. Click here to learn more about starting your free trial month subscription.
What to Watch Together:
Free Birds is a cute movie about two turkeys that need to put aside their differences and go back in time to the first Thanksgiving to get turkey off the menu. It is rated PG (probably best for ages 5 and up) and has plenty of action and adventure. Reggie and Jake, the two turkeys who go back in time, are complete opposites and their adventures make for some great comedy!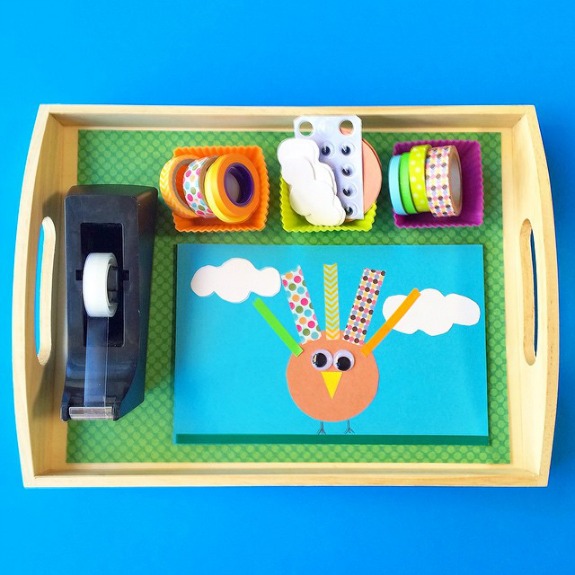 What to Make Together:
After watching the movie, we made our festive turkey cards! To make cards of your own, you will need:
Fold the blue construction paper in half to form your card.
Trace the end of a cardboard tube onto the brown construction paper and cut out to form the turkey body. Attach to the card using double sided tape.
Cut out cloud shapes from white construction paper, and attach to the card with double sided tape.
Invite your child over to add the turkey's feathers with washi tape! My kids thought this was so much fun and they loved making their turkeys look super colorful and festive!
Add wiggle eyes and cut a piece of yellow washi tape into a triangle to form a beak. Draw the legs with the marker.
Be sure to mail off your festive turkey card to someone you love!
Have fun!!
Disclosures: This is a sponsored post which contains affiliate links. All opinions are my own.