4th of July is around the corner and perhaps your family is planning to attend a local parade! Parades are a great way to teach children about holidays, music, community, and patriotism. Shared below are directions to a bright red, white, and blue Patriotic Parade Craft that children will enjoy shaking, swaying, and holding during the parade as they cheer on their favorite marchers! This would be great fun for a Memorial Day Parade too!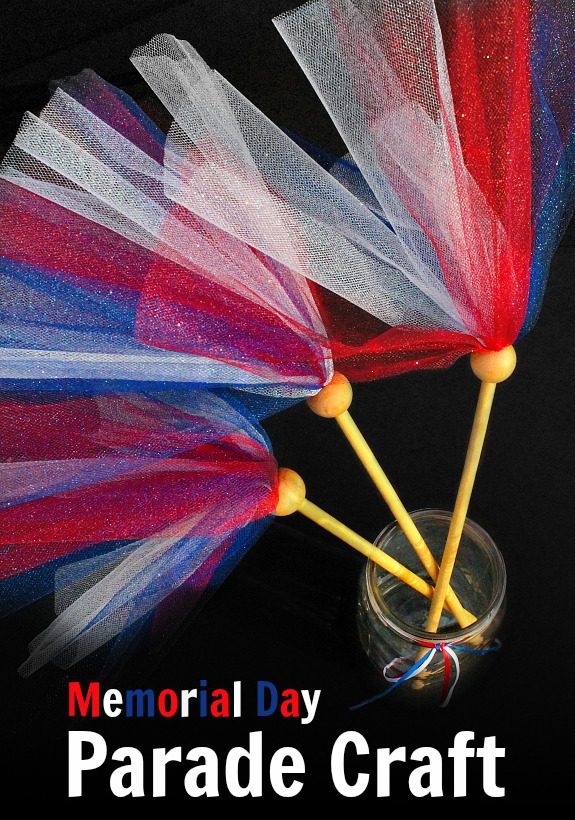 Supplies Needed:
red, white, and blue glitter tulle
5/16″ x 12″ dowel rods
1″; 3/8″ hold round wood beads
hot glue and hot glue gun
olive oil
clear tape
paper towels
Directions:
Pour a small amount of olive oil onto a paper towel. Gently oil the wooden dowel rods and beads. The oil will shine the wood, and there will be no need to coat it with anything else.
Cut strips of tulle approximately the length of the dowel rod. I used 4 of each color.
Hold the strips of tulle in one hand, and tightly wrap a piece of tape around the bottom.
Slide the taped end of the tulle strips into the bead until the tape is no longer showing.
Squeeze hot glue into the open end of the bead. Slide the dowel rod into the bead and firmly hold in place until the glue dries.
Trim the tulle to your desired length and enjoy!
How do you celebrate the 4th of July?