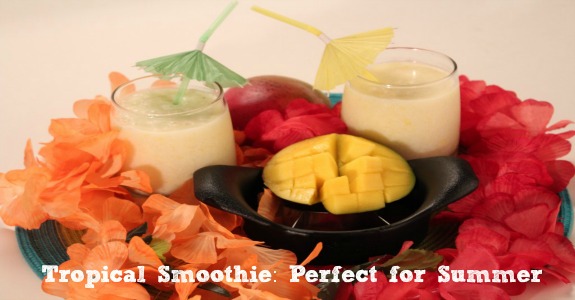 Summer is just around the corner and it's time to savor this short season in more ways than one.
With each season, not only does the weather change, but so does the foods and varieties of recipes that we make and share with family & friends.  It's time to celebrate all of the summer flavors available and one way is to create a few smoothie-licious summer sips in the blender that are cool & refreshing.  One of our favorite seasonal blends is the Tropical Smoothie.  It's a sweet, savory blend of flavors mixed with a few cooking lessons for children to learn as they get involved in the recipe making process.
Tropical Smoothie by Jodie Fitz
 1 cup coconut milk, vanilla
6 oz. pineapple juice
6 oz. vanilla yogurt
3 cups ice
½ banana
1 mango
1 tablespoon honey
1 teaspoon vanilla extract
 Peel and slice the banana. Cut the mango and remove the skin.  Add the coconut milk, pineapple juice, yogurt, ice, banana, mango, honey and vanilla extract into a blender and mix thoroughly.
 Makes approximately four 8 oz. servings.
HOW TO CUT A MANGO: The mango has a large seed in the center.  Using a sharp knife, an adult can slice the sides off on either side of the nut, which is typically the widest side starting at the top of the stem.  If the mango is ripe, children can use a plastic knife to cut squares into the cut sides.  I like to tell them it's like drawing a 'tic tac toe' board but with more lines; a grid of sorts.  Then, they can scoop out the cubes of mango with a spoon.
IS MY MANGO RIPE? Making this smoothie provides a great opportunity in teaching children about how to tell when a mango is ripe or not.  Is it soft or hard?  If you can press on the fruit and feel its softness, it is ripe and ready to make the Tropical Smoothie.  If it's hard, it's not ready and needs to sit for another day or two.
COCONUT MILK: There are a couple of different coconut milk options that you can find in the supermarket.  I personally use the Silk brand vanilla flavored coconut milk when making this smoothie.
LITTLE HELPERS: Even the little kitchen helpers can assist in peeling and slicing the banana.  They can easily cut up the banana by using a child's safety knife or a plastic butter knife.
HALF BANANA:  What do you do with the other half of the banana?  Eat it!  Or, cover it with waxed paper and save it for another Tropical Smoothie.
How do you stay cool in the summer?