4th of July recipes are a fun way to incorporate red, white and blue into Independence Day. Our ice cream sandwich cookies are a treat to behold.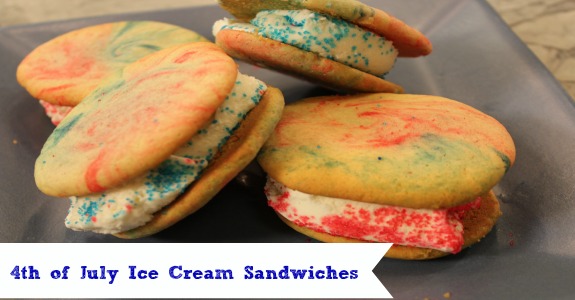 Red, White & Blue Tie-Dye Ice Cream Sandwich Cookies by Jodie Fitz
Sugar cookie dough*
Red food coloring
Blue food coloring
Vanilla bean ice cream
Red & Blue Sprinkles (optional)
1. Pre-heat the oven to 350 degrees.
2. Divide the cookie dough in half.
3.  Add red food coloring to one half of the cookie dough and knead it in with your hands to create a swirled dyed affect.
Note: if you are using the McCormmick liquid food coloring you will need approximately 7 drops of color.  You will need less, approximately half of the amount, if using the professional food paste coloring found in crafting stores.
4.  Repeat the same process with the other half of the dough using the blue food coloring.
5. Combine a portion of red and blue swirled cookie dough and roll it into a ball so that the red and blue swirls together like a tie-dye affect.
6.  Flatten the cookie ball and place it onto a non-stick backing sheet.
7.  Repeat the steps #4 and #5 until all of the dough has been used.
8.  Bake the cookies for approximately eight minutes.
9.  After removing the cookies from the oven let them set for 5 – 10 minutes and then transfer them from the baking sheet to a cooling rack and let them cool completely.
10. Let the ice cream container set out for approximately 5 minutes before scooping.
11. Place half of the cookies face down onto a flat surface that is covered with waxed paper.  Note: A baking sheet works great for this step.
12. Using an ice cream scoop add a scoop of vanilla to each cookie on the sheet; approximately ½ cup.
13. Top each sandwich with another tie-dye cookie face up.
14. Quickly add sprinkles to the side of each cookie if desired.
15. Place the ice cream sandwiches into the freezer for at least an hour before serving.
NOTE: If you are serving them the same day you have made the sandwiches you can leave them on the cookie sheet or tray in the freezer.  If you are making them ahead of time I recommend that you wrap each one, after it has set for at least an hour, individually in waxed paper.  Then place the wrapped sandwiches into a freezer bag or other airtight container.
*You can keep it simple and use the pre-packaged sugar cookie dough found in the refrigerator section at supermarkets.  Or, you can make your favorite sugar cookie recipe – either way, this recipe = pure fun
How are you celebrating the 4th of July this year?