Last week I had the pleasure of attending Toy Fair 2014 in New York City with Amy from Teach Mama and my friends from Melissa and Doug! We had so much fun, and I cannot wait to share some of the new and exciting toys Melissa and Doug are planning to release later this Fall!
Toy Fair is one of the biggest toy events in the world, and it is not open to the public. Only those who are directly involved in the toy industry are permitted to attend. There really is nothing else like it!!
Here are some of my favorite moments and highlights of Toy Fair 2014:
If you ever find yourself at Toy Fair, the Melissa & Doug booth is the place to be! Here's a peek at just some of the new products to be released later this Fall — I love all of these!!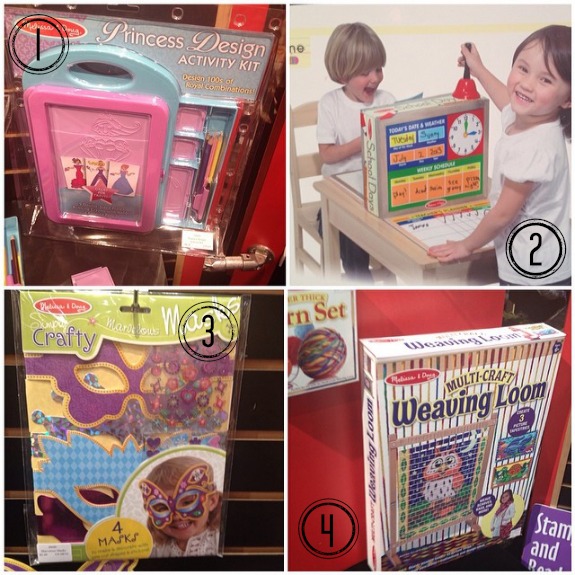 Clockwise from Top Left:
1. Princess Design Activity Kit
The Melissa & Doug Fashion Design Activity Kit was such a hit (especially for travel), that it only made sense to make a princess version. There are hundreds of possible combinations for kids to create, color, and style! I love the handy storage drawer that keeps all of the pencils, stencils, and rubbing crayon in one place!
2. School Time
I cannot even begin to tell you how adorable this pretend play set is. Includes reusable wipe off learning mats, a school bell, reusable charts, some pattern blocks, and so much more! Everything fits neatly inside the box, and the box is part of the toy with sides that cleverly flip down and are held in place with velcro. This is one of those toys that don't take up a lot of room, but have BIG play value. Genius!
3. Super Crafty Marvelous Masks
This craft kit would be so much fun for a party or after school activity. I love that it includes everything the kids need to make and decorate beautiful masks! I just know my 5 year old will go crazy for these!
4. Multi-Craft Weaving Loom
When my 9 year old saw the first photos of this weaving loom from Toy Fair, she went nuts for it!! Kids can make scarves, purses, or rugs out of yarn. They can even weave with paper too!
My fellow Melissa & Doug Blog Ambassador, Amy from Teach Mama, and I spent most of our time giving tours of the booth, playing with new toys, dressing up in silly outfits…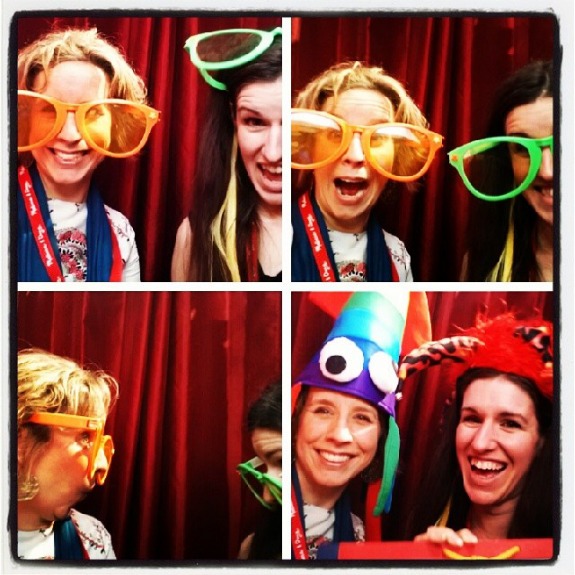 …testing Magic Color to reveal hidden patterns….
…crafting with Mess-Free Glitter (it's awesome!!)….
…and connecting with many of our blogging friends during the media breakfast and tour with Melissa (yes, THE Melissa)!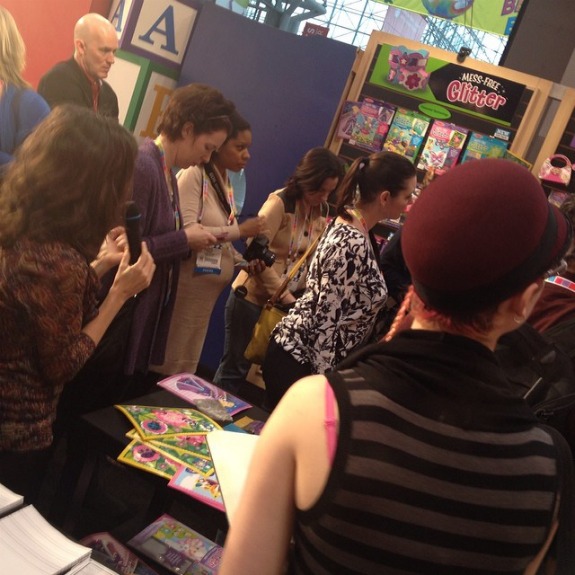 Melissa's tour highlighted all of the new and exciting products for 2014. Her entire face lit up while she talked about the toys and how they are designed to inspire plenty of creative play time fun!! If you didn't already know, yes there is a REAL Melissa and Doug — they are married to each other and have SIX kids!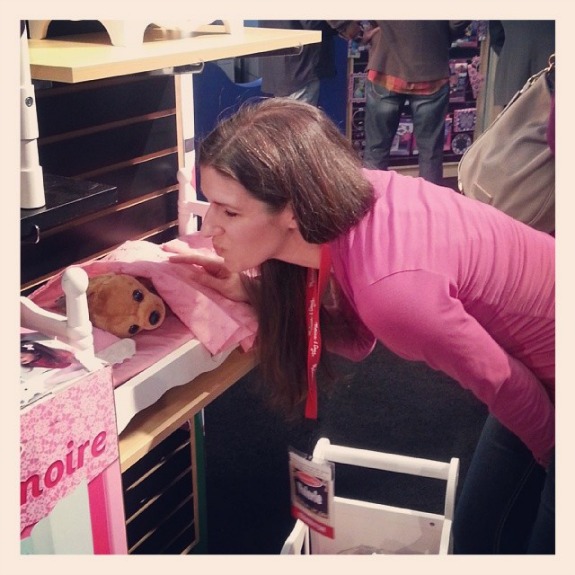 So what do you think? Which products are you most excited to see?? Leave a comment and share your thoughts with us!
Disclosure — This post was written as part of the Melissa & Doug Blog Ambassador program. All opinions are my own. A big thank you to Melissa & Doug  for inviting me to attend Toy Fair with them, and for making it loads of FUN!! Thanks also to Amy of Teach Mama for putting up with me and my roommate antics. She ROCKS!!! xoxo