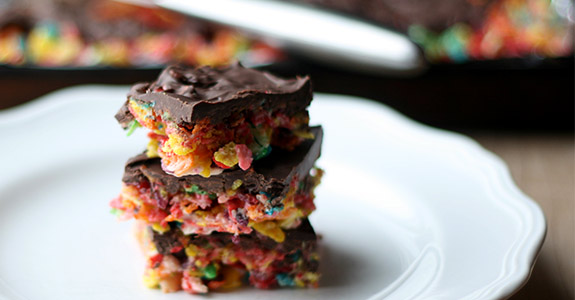 There is something to be said for creative kids.  Give them a paintbrush and they will create a masterpiece… give them full access to the pantry, and well… let their imaginations run wild.  Whether they are mixing up a favorite cookie recipe, or coming up with a creation all their own, giving kids the ability to spin those creative wheels sets them up for success in so many areas of their lives. Also, it is how you arrive at a gem like Chocolate Fruity Pebbles Bars.
This week, my daughter took the reigns in the kitchen and came up with an absolutely delicious treat.  I'm strictly classifying this one as a treat because it is full of sugar and not something you'll likely want to whip up on a regular basis.  Save it for a special occasion, and feel free to deviate from our recipe.  We have a couple of variations you're sure to enjoy!
These Chocolate Fruity Pebbles Bars are gluten-free.  If you are trying to follow a no-wheat diet, we've got you covered here with a fun treat that everyone in your family can enjoy.  It can be hard to find snacks that are easy to make that fit into a gluten-free diet, but we've been trying our hand at it.
Eating one of these Fruity Pebbles Bars after enjoying the healthy chicken salad that I whipped up earlier in the week would be a totally justified treat in my book.  We've been trying to encourage our son to eat as much of a gluten-free diet as possible, to reduce some of his ADHD symptoms.  That is one reason why we've been making so many recipes that are gluten free, like the banana bread we shared with you last month.
Kid Inspired Treats- Chocolate Fruity Pebbles Bars
Author:
Jessica from All She Cooks
Kid-inspired and kid-created treat.
Ingredients
6 cups Fruity Pebbles
1 (10.5 ounce) bag mini-marshmallows
12 ounces chocolate chips (we used gluten-free)
3 tablespoons margarine or butter
Instructions
Melt mini-marshmallows with butter by microwaving for a minute and a half, stirring, and then 30 seconds at a time until melted completely.
Line a cookie sheet with parchment paper and lightly spray with cooking spray. Stir melted marshmallows together with 6 cups of Fruity Pebbles. Pour onto cookie sheet and spread out.
Melt chocolate chips in a glass microwave safe bowl by microwaving for one minute, stirring, and then in 30 second increments (stirring in between) until melted.
Pour melted chocolate over the cereal bars and spread so evenly dispersed.
Let sit for a few hours until chocolate has hardened, or leave overnight.
Variations:
) Reduce chocolate by as much as ¼ and drizzle over cereal bars instead of spreading over.
) Replace the chocolate chips with white chocolate chip using either the same amount the original recipe calls for and spreading over the cereal bars or a reduced amount and drizzling over the cereal bars.