Making shredded chicken is incredibly easy with a little help from a slow cooker.
What I love about this method is how simple and versatile it is to have pre-cooked shredded chicken on hand for a multitude of recipes! It can be used for breakfast, lunch or dinner and for busy families on the go, it is a huge time saver! I usually have this going in the slow cooker early in the week and use half of it that night. I usually freeze the other half for the following week. You can also keep the leftover in an airtight container in the fridge and sprinkle some here and there throughout the week.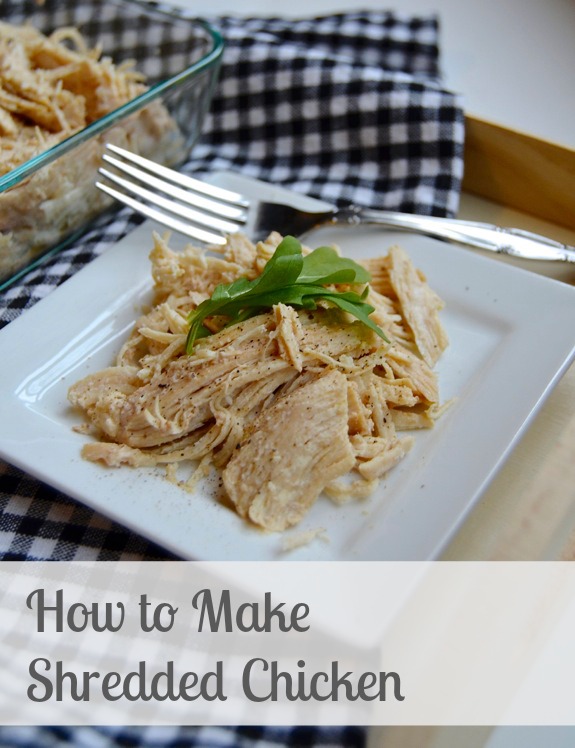 How to Make Shredded Chicken
Place 4-6 boneless, skinless chicken breasts in the slow cooker. Many times I buy boneless, skinless chicken breasts in bulk, so this is a great way to use them up! Keep an eye out at your local supermarket for when they are on sale and you can make a good deal into a great deal!
Pour 2 cups low sodium chicken stock or broth over top, and stir gently.
Cover and set slow cooker on LOW for 8 hours.
Carefully remove chicken from the slow cooker to a platter, and use two forks to shred up the meat. Ladle some of the broth overtop to maintain moisture. Store in an air tight container to use throughout the week!
Possible Uses for Shredded Chicken
Add to casseroles or pasta dishes
Make chicken noodle soup
Chicken Caesar Salad
Chicken Quesadillas
Heart Garlic & Herb Chicken Soup
Chicken, bean, and cheese burritos
Shredded Chicken Tacos
Add BBQ sauce and serve on slider buns to make sliders.
Add to pizza!
Chicken Ranch Wraps — to a flour tortilla, add shredded chicken, light ranch dressing, shredded cheddar cheese, shredded carrots, and lettuce. Roll up!
Do you have any great go to recipes after you know how to make shredded chicken? How do you stretch it over the week?