Recently inspired by the lovely Imagination Tree, I set up a simple invitation to explore early math concepts for Clara using some of her existing learning toys and other household items. This has been a HUGE hit with her, and I love how arranging the toys in this way helped to renew her interest in some of the learning tools she already has! She has been counting, sorting, arranging pattern blocks, and exploring how to tell time — all on her own initiative.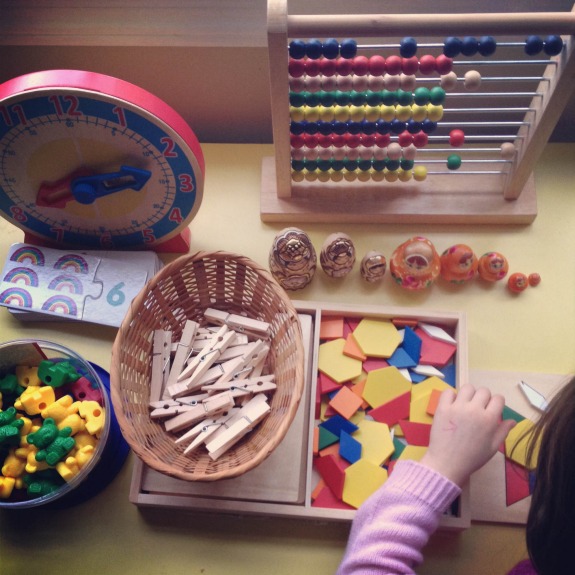 Here is a list of items we used:
Clothespins
in a basket — for fine motor and counting practice. As Clara counts them, she attaches them to the outer edge of the basket. 
Counting Bears
— Counting practice and developing patterning skills.
Pattern Blocks
— for exploring geometry and promoting shape awareness. 
Math Puzzle
— to match numerals with the number of objects on the cards.
Nesting Dolls
— to sort by size.
Abacus
— counting practice, and to explore addition/subtraction.
Learning Clock
— to practice telling time on both digital and analog clocks.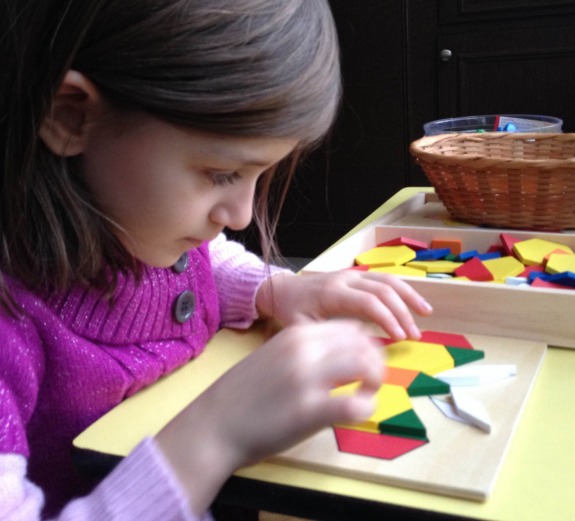 I love this intense look of concentration!
Have fun!!
* Disclosure — This post contains affiliate links.