When wintery weekends and snow days make their way onto our calendar pages, warm yummy breakfasts are the first demand and homemade pancakes are always a hit.
Whenever I make homemade pancakes or waffles or even French toast on the weekend, I double (sometimes triple) the recipe for freezing.  I LOVE being able to open the freezer, grab individually wrapped items, toast them up & serve them for quick & easy breakfasts on busy mornings.  Below are few from scratch pancake recipes that have won the kid 'thumbs up' stamp of approval over the years and a few tips & tricks we've used along the way.
Mixing it Up
We always start by whipping together our eggs, sugars and any additional wet ingredients. Then, we add in all of the dry ingredients.  Next, we whisk them by hand until the batter is smooth, all of the ingredients are mixed together and it's nice and thick. After that, it's ready to cook on a nice hot griddle that's been coated with non-stick cooking spray over low heat.  Cook the pancakes until the batter looks cooked on the one side, with the batter bubbling on the other before flipping to finish cooking the pancakes thoroughly.
Chocolate Chip Pancakes with Peanut Butter
 1 large egg
1 cup flour
1 cup low fat milk
3 tablespoons sugar
¼ cup peanut butter
1 tablespoon baking powder
1 teaspoon of vanilla extract
½ teaspoon salt
1 cup dark chocolate chips
Note:  I treat the peanut butter as a wet ingredient when adding it to the mix.  Fold in the chocolate chips after the batter has been whisked together completely.
Pumpkin Pancakes
1 large egg
1 ½ cups flour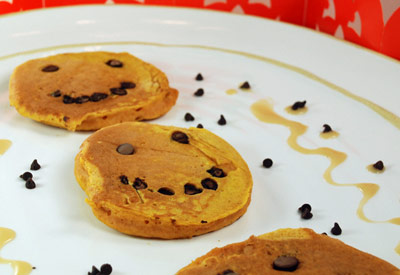 1 cup low fat milk
1/3 cup brown sugar, light
½ cup 100% pumpkin
3 tablespoon canola oil
1 teaspoon cinnamon
1 teaspoon vanilla extract
3 teaspoons baking powder
Chocolate chips (dark)
Note:  I treat the pumpkin as a wet ingredient when adding it to the mix.  While the first side is cooking, add chocolate chips to the uncooked side of the pancake to create a face.  Flip and cook the second side.  Or, let the kids add the chips once they are done cooking.
Honey Oat Homemade Pancakes
2 cups flour
½ – ¾ cup old-fashioned rolled oats
2 cups low fat milk
2 eggs
½ cup honey
¼ cup canola oil
1 ½ teaspoons vanilla extract
1 ½ tablespoons baking powder
1 ½ teaspoon cinnamon
¾ teaspoon salt
Build a Pancake Snowman
Use a mini scoop to create the perfect pancake size for skewing with a long cake pop stick.  Skew two mini pancakes onto the stick for the body.  Create a face and three buttons with chocolate morsels.  Add a mini carrot piece for a nose.
Skip the Syrup
Try serving the pancakes with a yogurt sauce drizzle instead of syrup. Mix 3 tablespoons of low fat vanilla yogurt, 2 tablespoons of low fat milk and 1 teaspoon of honey together and voila!
My youngest likes her pancakes mini-sized and on a stick. For some reason believes they don't need syrup this way or any other topping.
You can also try a fruit topping!
Jodie Fitz's Apple Honey Topping for Homemade Pancakes:
3 apples
1/2-cup water
2 – 3 tablespoons honey
1 teaspoon cinnamon
1 teaspoon vanilla
Wash, peel and core the apples. Dice the apples and set them aside. Mix together the water, honey, vanilla and cinnamon. Add the apples and the cinnamon water mixture into a saucepan and simmer for approximately 15 minutes or until the apples are soft. Keep them covered as they cook, but stir frequently.
Finally, go Belgian Style by using Greek Vanilla Yogurt as the whipped topping and thawed fresh frozen strawberries with no sugar added as the topping/syrup replacement.
How to Store Pancakes for Freezing
Let the pancakes cool completely.  Wrap each individual pancake in waxed or parchment paper.  Place the wrapped pancakes in a freezer made container or freezer bag and freeze.  When heating them, we've found that toasting is the preferred heating method at our house vs. use of the microwave.
Add in Whole Grains                                                                                                                                        Try using Mix half whole-wheat flour with half all-purpose flour in order to introduce whole grains.  Gold Medal sells a 50/50 mix that you can purchase at the supermarket.
How would you serve your pancakes? Are you one to serve quick pan-fried potatoes with them?