Sometimes, all it takes to get kids involved in Thanksgiving Day meal prep is a fun bread recipe like this zucchini bread recipe.
Fresh baked bread is always a delicious addition at any Thanksgiving table.  And, even better, it's something that you can make with the kids a day or two in advance so that they can assist and participate with the festivities while avoiding the chaos that can sometimes consume a kitchen on the "Big Day."
One way we have served our breads on Thanksgiving is by baking them in muffin tins to create individual portions that can be wrapped and turned into personalized place cards for a festive dinner table.  What a great way to tackle two tasks with one great zucchini bread recipe! A simple and inexpensive Mayflower  place card can be created by using a brown paper bag that has been cut into a ship, taped to a cake pop stick or toothpick and added to the top.  The children can decorate the individual Mayflowers with color and they can add names to each one for seating arrangements.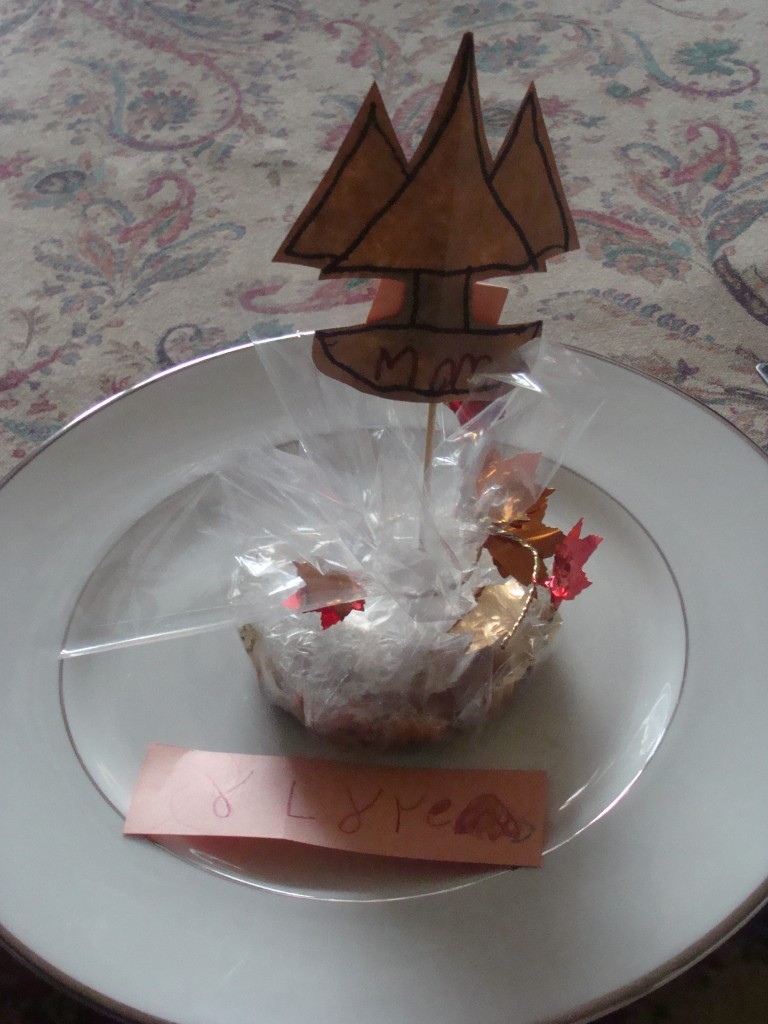 Another way to connect the season while involving guests is to create a bit of a word scavenger hunt.  Simply google and print the Native American alphabet like this one (click here), have children create name tags using the symbols & then give the 'key' to guests to determine where they are sitting.
In order to get started on this cute Thanksgiving craft and table setting idea, here is our favorite twist on a zucchini bread recipe.
Rain Forest Muffins by Jodie Fitz
½ cup  sugar
½ cup  applesauce
¼ cup butter, softened
2  eggs
1 teaspoon vanilla extract
1 ½ cups zucchini, shredded
¼ cup carrots, shredded
¼ cup  orange juice
2 cups  flour
½ teaspoon  baking soda
¼ teaspoon  salt
½ teaspoon  cinnamon
½ teaspoon baking powder
¾ cups  raisins
Cupcake Liners
Preheat oven to 350 degrees.  Mix sugar, butter, eggs and vanilla together.  Add in apple sauce, orange juice, carrots and zucchini.   Add in all dry ingredients.  Mix thoroughly.  Stir in the raisins.  Place the cupcake liners in the cupcake/muffin tin.  Fill each tin at least half full and bake until golden brown; approximately 25 minutes.
This zucchini bread recipe is a great way to teach children how to make sure that baked goods are fully cooked by using a cake tester (or knife with an adult present).  Insert the cake tester into the middle of the muffin. If it's clean when you remove it, then the muffins are fully cooked and if it's not, it needs more time in the oven.
Note:  Making Rain Forest Bread is a great way to include vegetables in a fun flavor. It's way more fun to eat Rain Forest Bread rather than zucchini bread and this recipe has just an added twist in the mixture with ingredients kids love.
What's your favorite twist on place settings at Thanksgiving? How would you use this zucchini bread recipe in your everyday?