Fall dessert ideas are on the brain as the chill fills the air.
Handpies are always something I think of when I think of fall.  Pumpkin patches and apple turnovers just seem to go hand in hand.  These handpies are SO easy that you can have your whole family help (yes, even the 2 year old). As fall dessert ideas go, they are a perfect bite sized snack for a harvest party or a Halloween gathering for kids and grown-ups alike!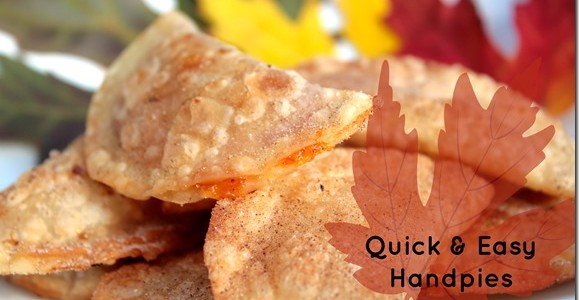 It's almost silly how easy these are.  I had the thought of making my own filling with sugar, raw apples, and wonderful spices… and then I realized that I had already done all of that work making 10 half pints of my Apple Pie Jelly.  So why not use that instead??  After that it was an easy evolution to using every jam or jelly I had in the house as a filling for these bite-sized bits of fall yumminess.
We ended up picking the two that represented fall the best; Apple Pie Jelly and Pumpkin Butter!  YUM!
You will need:
Wonton wrappers
jam or jelly
water for sealing
coconut or other light oil for frying
powdered sugar or cinnamon sugar
First, remove wrapper from package and lay flat on a clean surface assembly line style .
Place about a teaspoon of jelly or jam in the center (you can also use things like cherry pie filling but be careful, as they are easy to overfill).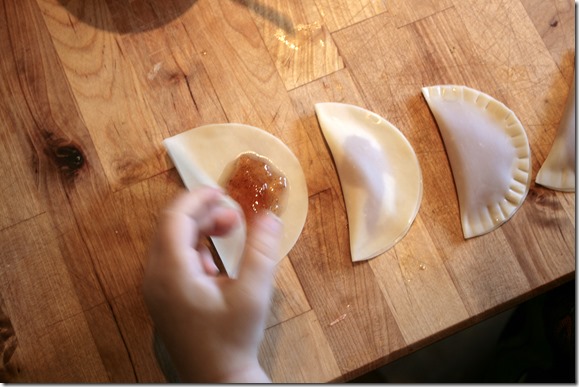 Dip your finger in water and run it along in a semicircle on the outside of the wrapper.
Fold over and press the two edges together to make a half circle.
Use a fork to press and seal the edges.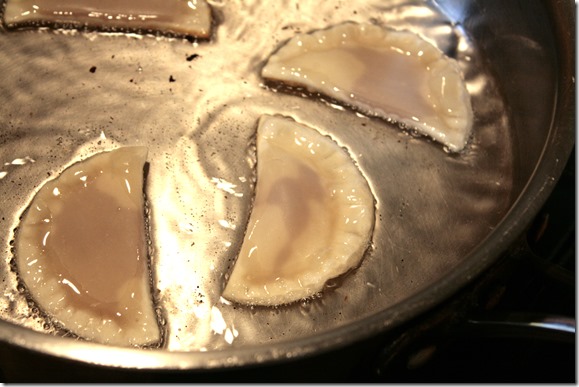 Place in a pan with about 1/2 inch of hot coconut oil.  Flip half way through to brown on both sides.
Remove from oil and place on a paper towel lined plate.
Sprinkle with cinnamon sugar (for the apple jelly filled ones) or powdered sugar (for the pumpkin butter) and allow to cool for at least 10 minutes (the filling is HOT!).
And enjoy!
These would be a great appetizer for a harvest party or yummy fall dessert just because!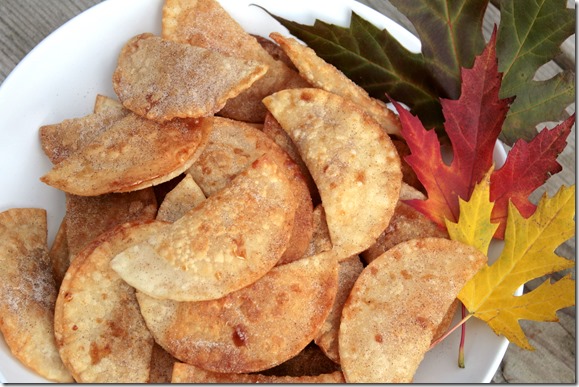 What type of filling would you put in these yummy fall dessert beauties?