The best part about summer for me is getting outside with my children!  I love watching their eyes light up when they pop a wild berry into their mouths or find a snail along a forest trail.  We spend hours and hours outside each day, sometimes doing more formal learning such as species identification and notebooking or sometimes we are just taking a walk, but each time I find that I learn something.  If I were to take a slice of the conversations on nature walks with my children, it would be filled with questions like this: 
"What type of flower is that?"
"Why is that tree bent like that?"
"Can I eat this berry?"
"Is that a wasp or a bee?"
"Can I bring home this feather I found?"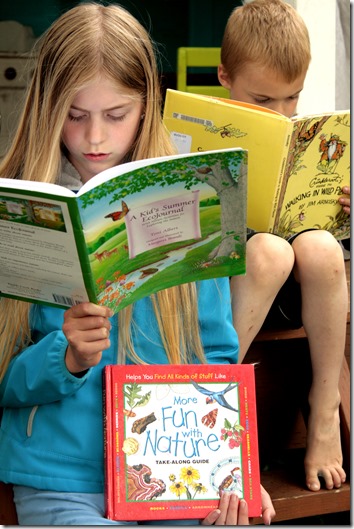 So much of our learning is done through asking questions, but sometimes I just don't know the answers!  So I have put together this little book list for you (and for me) so that you can answer the many questions your children may have on your summer adventures .
This little dude is one of my best friends to take on a hike. Each book of this series, written by Jim Arnosky, is set up to break down information into bite sized pieces so that the kids can digest it at their own pace.  They are both brilliant and informative.  I have learned a TON from these books and my kids all love the Crinkleroot character and the little snake that lives in his hat.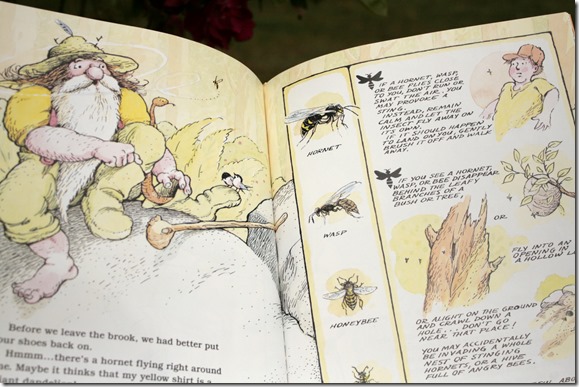 Here is one of our most recent questions answered.  We have a neighbor with honeybees who are not aggressive at all but last fall we had a hornets nest under the eves of our old shed.  My kids all want to know which kinds of bees they can get close to and which they should avoid.  We spent quite a bit of time looking at the different body shapes and markings and now my kids can identify several kinds of stinging bugs. They know which ones they can get close to and which ones they should stay far away from.  What an amazing skill to have! 
This set of books is also divided into 12 smaller books, but I highly recommend getting the collections.  In each of these sturdy hard bound editions are 6 of the smaller books, bound back to back.  We have these two collections in our car at all times, just in case we see something in the grocery parking lot (or anywhere) we want to learn more about.  There is a lot of information on these pages, which is more specific than the Crinkleroot books but just as easy to digest.  Each page is dedicated to a specific plant or animal and goes into detail about characteristics to identify them by. 
These books have been in action for a long time now.  We were on a nature tour on a Seattle beach, and at the end of the tour Cyan was sitting on the curb waiting for us to get Logan in the car.  She leaned back, and as she did, a bird squawked really loudly from RIGHT behind her!  She ran and grabbed my hand and pointed out the bird to me and it wasn't more than 2 feet from where she was sitting on this curb. It was  in plain sight but we hadn't even noticed it.  It was tucked into the rocks with it's wings slightly loose and it blended perfectly into the rocks.  We got into the car and got out our Fun with Nature books and sure enough – there was a two page spread on our bird.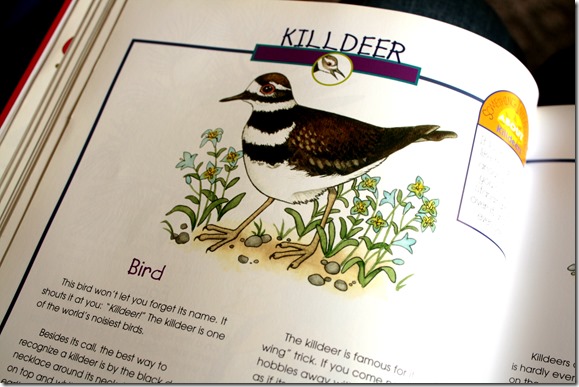 A Killdeer, and right on the page with the picture it says "It looks so much like the ground around it that you could be standing right over it, and not even see it!"  In that case (and many others since) the facts in the book have mirrored our experience exactly.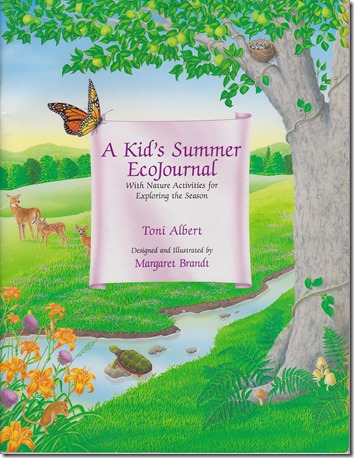 These beautiful books are my absolute favorite when it comes to nature study closer to home.  They are not the same as the guide book style books above.  It is a collection of stories about a small space of land called 'Trickle Creek'.  Each season has it's own book… and you will want to own all 4.  The author, Toni Albert, wrote in this journal style book several times per week over the course of one year.  In the winter, she has stories such as that of a deer coming to the back door and playing with their dog Abercrombie, and in the spring she tells tales like that of her temporary pet Feisty the Squirrel who came to live with them until she could be on her own. 
Each story is paired with a project.  In this, there is anything from making a house for baby bats to live, to collecting wildflowers for a dried wreath for winter.  It is an incredible collection that I have gone through year after year and still find new things to explore and discover within the pages.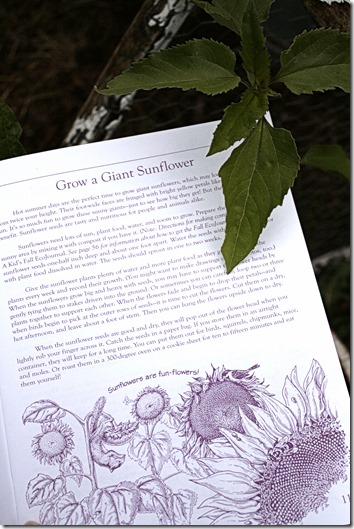 Our red sunflowers that we planted with the instructions from the Ecojournal.
The beauty of this series is that you can be hanging out in your own backyard and create these same types of stories.  We recently had a crow fall from the nest early and for a week we listened to the mama and papa crow screeching at anyone who came into the yard, even us!  As I was writing up the post about our experience for my own blog, I realized that this was one of the stories that Toni could have added to her book.  The information is just so – normal – and yet so amazingly done and beautifully illustrated that I always get excited when we switch to a new season and I get to discover the new goings on of the Trickle Creek critters and how they compare to my own backyard fun.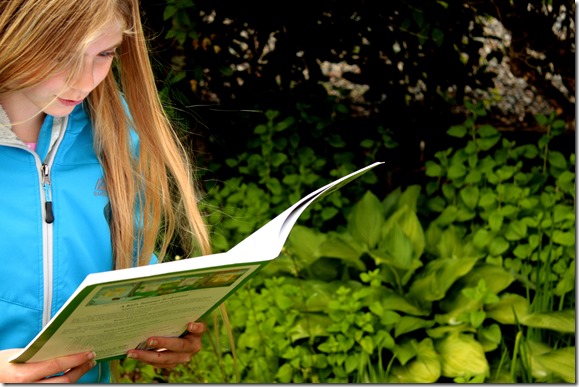 Happy nature reading!!