They say the road to success is paved in thank you cards. Have you mailed a thank you card recently?
Think for a second…who do you need to say "thank you" to? 
There are probably a lot of people. So, if you're going to write them thank you notes (and you should) and your list is long, saving money is a good idea.
For one day only (today!), you can get 50% off custom thank you cards from Tiny Prints! I love that these cards can be made using your own photos to be extra special.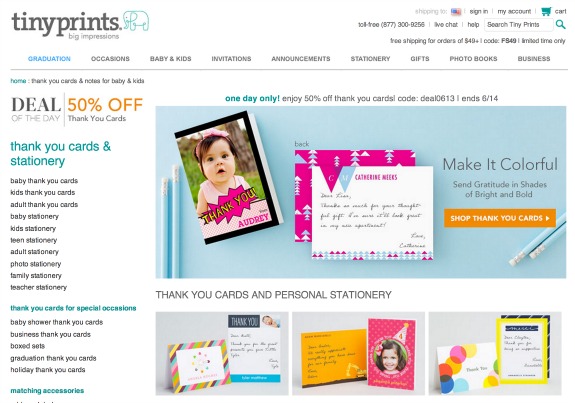 Beginning at 10:00 AM PT today (6/13) through 9:00 AM PT tomorrow (6/14), their custom thank you cards are half off with the promo code DEAL0613.
Creating custom thank you cards is easy:
1. Visit their Deal of the Day Page and click through to the thank you cards.
2. Choose from hundreds of designs. Pick the one that best fits your personality.
3. Customize the cards. Pick your own fonts, add pictures to some designs, choose your favorite colors, and play with the design. Make it scream "you."
4. Double check your design. Make sure it looks like you want it to.
5. Checkout. When you checkout, use the promo code DEAL0613 for 50% off. 

That's it! Super simple, but you have to act fast. 
They'll be to your door in about a week and all you'll need then is a good pen and a thankful heart.
[Disclosure: This post contains affiliate links. All opinions are my own. Full disclosure policy here.]