It's summer and that means lots of fun time spent outside playing with bubbles. Want to extend your bubble play? Try these bubble experiments and discover new ways to play with bubbles. When you're done experimenting, how about trying an art project with bubbles? Bubble printing is so easy and you get beautiful, unique results with every bubble that pops!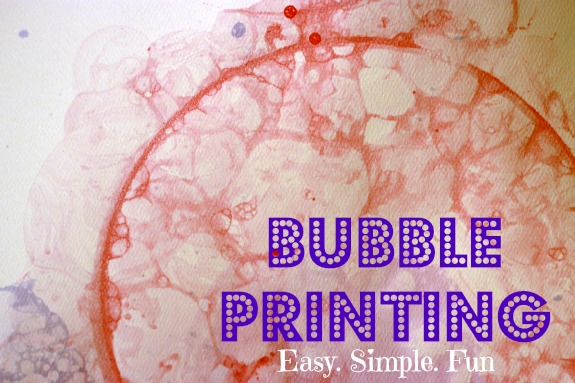 Here's what you'll need:
Dish soap

Tempera paint
Water
Containers
Straws
Heavy weight paper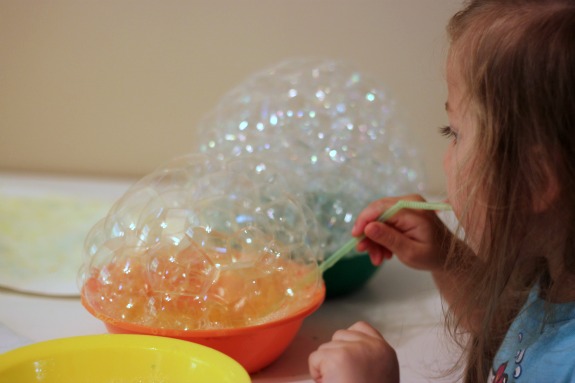 Here's how you do it:
Put a few squirts of paint and dish soap into your container

Add about 1/2 cup of water (add more or less to find the best soapy paint mixture for you)
Stir it all up
Blow bubbles
Lay your paper straight down onto the top of the bubbles (if you move it around you won't get lovely bubble designs), then pick your paper straight back up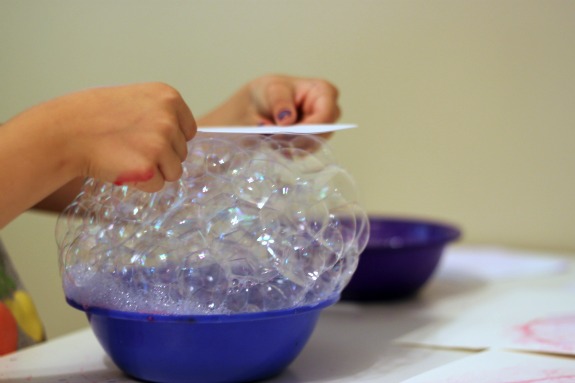 Sometimes when you pick your paper back up there will be unpopped bubbles just waiting to be popped by an eager finger. It's really fun when you get to see the process of the bubble making a print.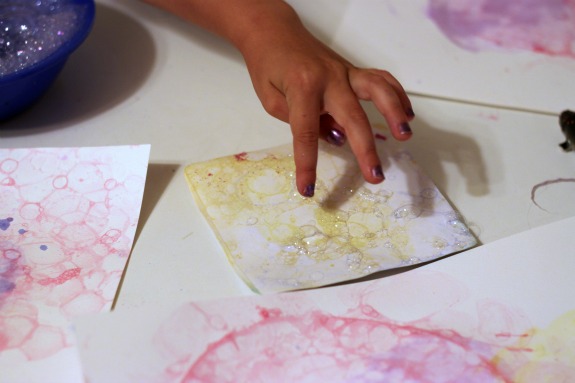 Now that you have so many beautiful bubble prints, what can you do with them all? We made notecards out of ours, perfect for sending out to a relative or friend that you'd like to thank, wish a happy birthday, send positive thoughts, or just say, "Hi!" We also printed on larger sheets of paper that we folded in half and then stapled blank printer paper into the center. A simple sketch book to keep (with markers) in your purse or car for waiting rooms or impromptu nature field journaling! You can also use large sheets of paper to make wrapping paper or use the sheets for scrapbooking. You could even glue the paper down to wooden picture frames, insert your favorite summer picture and give it to someone as a gift!