A few Easter's back, when my kids were still toddlers, I worried about filling their baskets with candies and chocolates and everything else sugary sweet that comes along with Easter. Instead, I came up with this quick and easy trail mix using items in my pantry. It's now a favorite part of our Easter family traditions, so I thought I'd share a bit about it here.
This trail mix is really versatile, and can literally be made using whatever you have on hand. Any favorite cereals, snack foods or crackers, or dried fruits will do, and you can add in chocolate chips, or M&Ms or other small candies if the mood strikes you.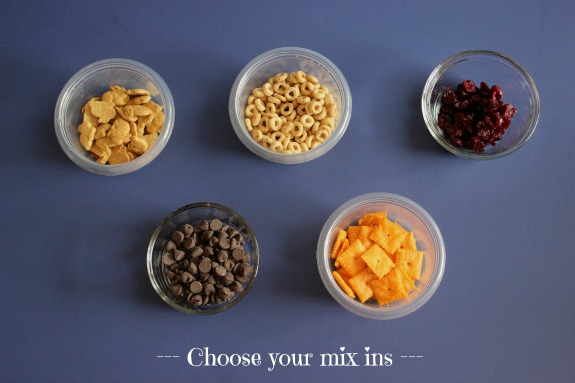 A few of our favorite mixes include:
PB & J – Peanut Butter Dot cereal, raisins, cashews, craisins, and corn chex
Salty Sweet (shown here) – Cheerios, Cheez-Its, Craisins, Chocolate Chips, and Annie's Bunny Grahams
Tropical Trail Mix: Crispix, Dried Pineapple, Coconut and Mango, Banana Chips, peanuts, and Teddy Grahams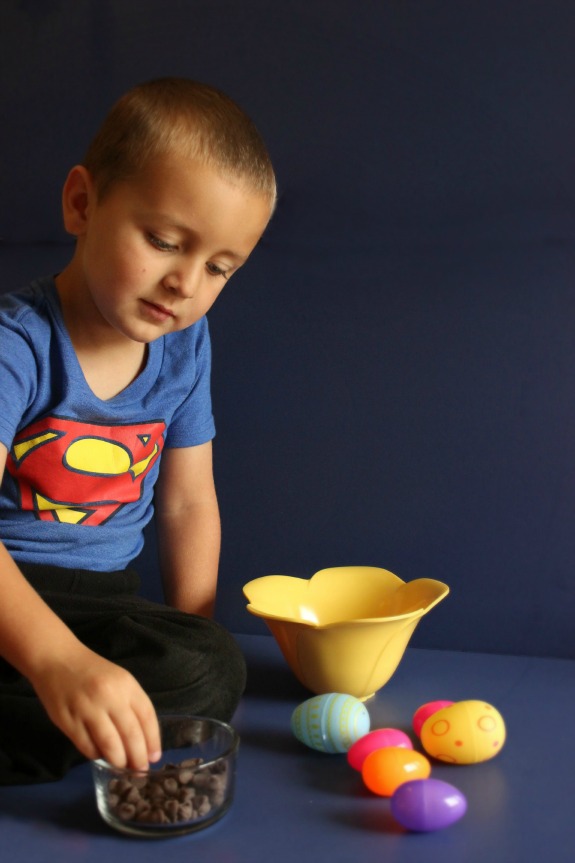 Now here's where you can really have fun with it. You could premix a big batch of trail mix and then fill half of your eggs with this and the other half with your child's favorite candies … or, you can fill multiple eggs with only one ingredient of the mix. Then after the egg hunt, the kids can open the eggs and make their own trail mix using all of the ingredients they found during the hunt.
Something else we've started doing is leaving some trail mix out for the Easter Bunny, he sure does get hungry hippity hoppity-ing all day.
Do you have any candy alternatives to filling your Easter eggs? Tell us here!