This weekend my daughter Emily and I boarded a bus to NYC for Kids Food Festival — a series of 2 day festivals in partnership with Cooking Light magazine presented by The Creative Kitchen. We had such a great time that I just had to share the details of this fun event with you!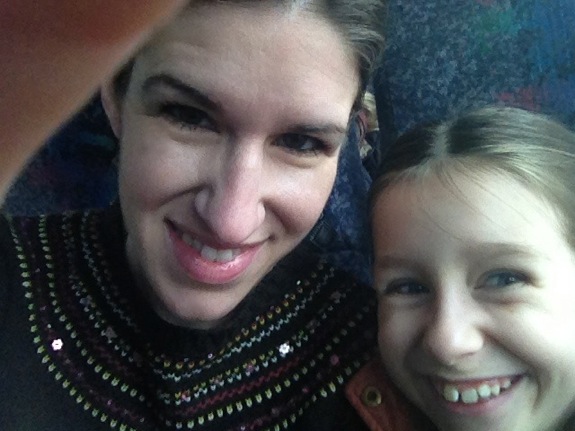 This was only Emily's second time to the Big Apple, and she was beyond thrilled to travel to the city! Kids Food Festival was such an added bonus to already fun day!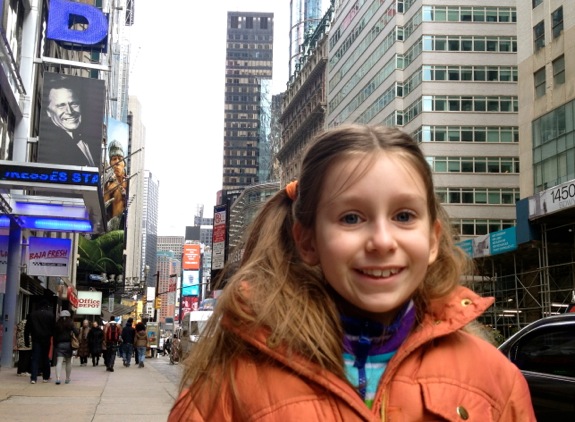 Once we arrived at the festival, which was held at Citi Pond at Bryant Park, we found several of our favorite food companies giving free samples of snacks and drinks: Organic Valley, Honest Tea, Plum Organics, and Happy Family to name a few. Emily loved participating in a Balanced Plate scavenger hunt with goody bag prizes, and she was especially excited for plenty of food sampling! There was live entertainment, demonstrations for families curated by the James Beard Foundation, hands-on cooking classes, and lots of giveaways too.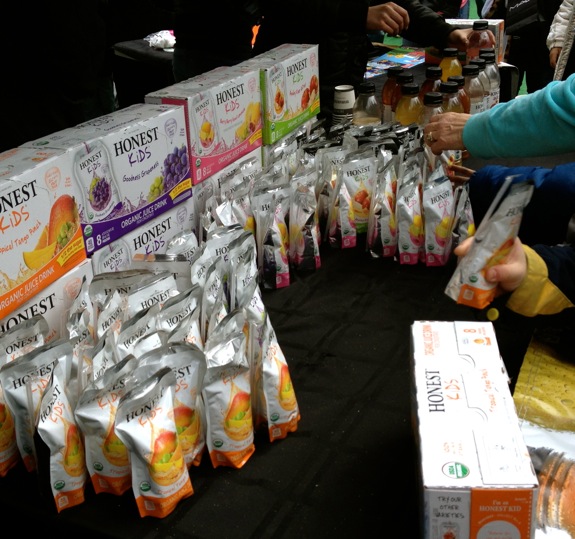 We even spotted some special PBS friends along the way!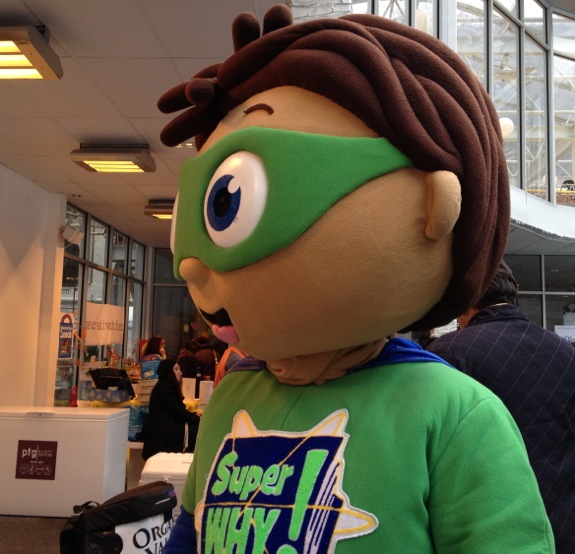 Next, we had tickets to a special kids cooking class held at Celsius, a restaurant within Bryant Park. (A big thank you to Happy Family for providing us with tickets!) Hands-on cooking classes were being held throughout both days of the festival, but this particular class was led by Cricket Azima, the founder of Kids Food Festival and The Creative Kitchen. Cricket was inspired to start working with kids when she was at a crossroad in her career trying to decide between becoming a chef or an elementary school teacher. Now, she does both by teaching elementary aged kids about food!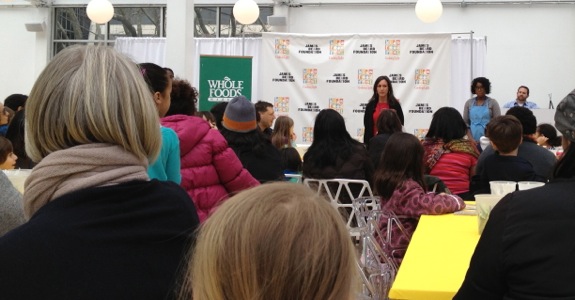 During the class, we had a great view of the skaters at Citi Pond!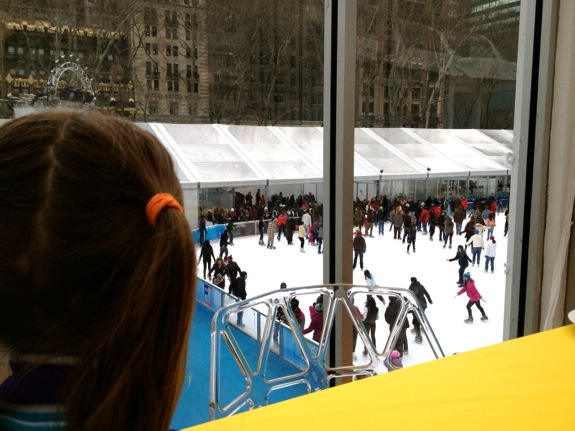 Cricket and the team from The Creative Kitchen did an amazing job walking our class of about 50 kids (and their parents/grandparents) through the process of making Fresh, Flavorful, and Fun Salsa (recipe below) using inspiring kid-friendly ingredients such as tomatoes, strawberries, cucumber, mango, kiwi, corn, and more!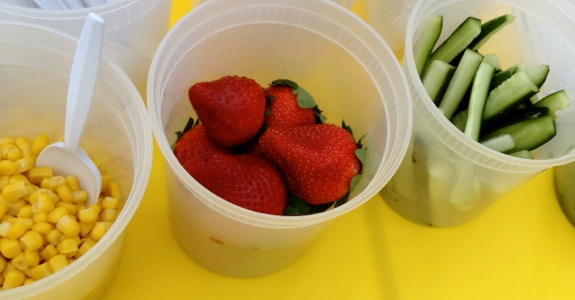 Emily got to work chopping up red bell pepper strips into tiny pieces to try to fit as many different colors of fruits and veggies onto one tortilla chip of her homemade salsa. She was so happy to be putting this together and could not wait to taste it!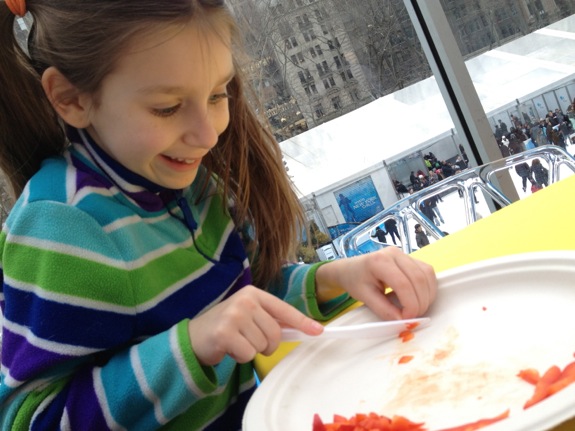 Once all of the ingredients were added to a zip top bag, it was time to shake up the salsa!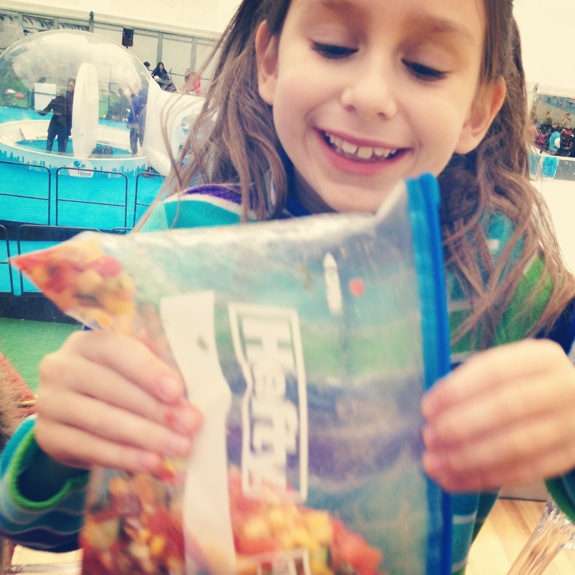 Want to make some of our own?? (Of course you do!)
Here is the Kids Food Festival Featured Recipe by Cricket Azima:

Fresh, Flavorful, and Fun Salsa
Ingredients
4 tomatoes
1 cup strawberries
1 mango
2 kiwi fruit
1 seedless cucumber
2 different colored bell peppers
1 (15.5 ounce) can cannellini beans
1 (8 ounce) can corn
1 cup fresh cilantro leaves
2 limes
olive oil, to taste
salt and pepper, to taste
chips (baked chips for a healthier option)
Instructions
Dice tomatoes, strawberries, mango, kiwifruit, cucumber, and peppers and place in a medium mixing bowl.
Add beans and corn to the bowl and stir together.
Tear or chop cilantro leaves and add to the bowl.
Dress salsa with lime juice, olive oil, salt, and pepper to taste. Mix well and eat with chips!
Projected future locations for
Kids Food Festival
include:
Washington, D.C.
Los Angeles, CA
Chicago, IL
Dallas, TX
For more information, visit www.kidsfoodfestival.com — follow them on Twitter or "like" them on Facebook for upcoming event dates & locations!