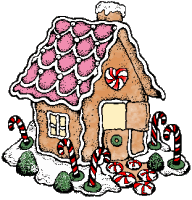 As mentioned earlier this week, kids love to make their own creations.  Today's project is a Make Your Own Gingerbread House Kit.  These are simple and easy to make, and they taste delicious!  Using these clever shortcuts, you can have a beautiful gingerbread house put together in minutes.  
To make your gingerbread house kit, you will need:
1 box graham crackers
1 empty 2 pint milk carton
white icing
decorative candy (licorice, gum drops, candy canes, peppermint candies, etc.)
Place the items listed above into a gift bag and attach the following instructions:
Using the icing as glue, attach graham crackers to cover the outside of the milk carton.  Use a plasic bag with one corner cut off to pipe icing along each edge of the gingerbread house.  Attach candy using icing as glue to decorate your house.  
You could include a bag of marshmallows to use as snow, if desired.  Kids love building (and eating) these!