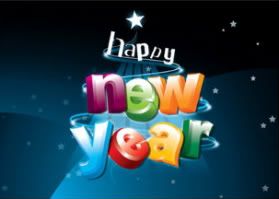 New Year's Eve parties can easily get expensive, but with a little help from the Frugal Family Fun Blog, you will be able to start 2009 off with a Fabulous Frugal New Year's Eve Bash — and be able to celebrate without the worry of extra holiday bills!    
Here are some ideas to get you started:
Guest List —  To help save money, consider limiting your guest list to the people who are the most important to you.  You don't need to invite the entire neighborhood.  Two or three other couples is just fine.
Free Babysitters — When possible, take advantage of free babysitting help from grandparents or other relatives.  You could also take turns babysitting with another couple.  In exchange, you could offer to run some errands or cook for them.  This is a huge help, so be sure to thank your babysitters for all their hard work! 
Invites —  Sometimes the party's budget can be blown before the party even starts just because of expensive invitations!  Instead, try Evite.com and you will be able to send online invitations, track RSVP's, ask guests to bring an item, or send party updates quickly and easily.  Evite.com is free!
Lighting —  Use lighting and decorations that you already have on hand.  You could take down the Christmas tree (to free up some space), and use the lights around the party area.  Silver garland works well.  
Food —  Since your party will probably start late in the evening and go all night, you can easily skip a full holiday dinner.  Instead, offer lots of tasty homemade appetizers!  Click here for recipe ideas.  One of my favorites is Bacon-Wrapped Artichoke Hearts.  Here is the recipe:  


Bacon Wrapped Artichoke Hearts:

Pre-heat oven to 425 degrees.  Cut bacon slices in half horizontally.  Wrap each artichoke heart in the 1/2 slice of bacon and secure with a toothpick.  Place on an ungreased baking sheet.  Bake for 10-12 minutes.  Serve immediately.  You can prepare large trays of these ahead of time and pop them in the oven when the party is about to begin!

Drinks —  Instead of loading up a full service bar, try serving one signature drink for the party.  Pomegranate Martinis make for a  festive drink everyone is sure to enjoy.  Click here for the recipe.  Be sure to include at least one non-alcoholic beverage.
Music —  Hiring a band can be very expensive, so instead try hooking up some speakers to your computer or iPod.  Set up a playlist in iTunes and you have a very inexpensive music solution.  You could also borrow music CDs from your local public library for free.  
Entertainment —  If one of your friends has a Wii, you could borrow it to set it up with some fun party games such as Wii Sports, Super Monkey Ball, or Mario Party 8.  Also, you could try some other fun games including CatchPhrase, Cranium, Taboo, and Apples to Apples.  Ask around if any of your friends have these games to see if you could borrow them.
Have any other ideas for a Fabulous Frugal New Year's Eve Bash?  I would love to hear about it.  Leave a comment and tell us about it!